Marion SABYambassador Rab And Tenayaoutdoor sports enthusiast and specialist in sports nutrition shares with you his return to the field of the Electron Pro down jacket of Rab.
Presentation of the Rab brand
Rab Carrington stuck in Argentina on his way to an expedition to Patagonia in 1973, learns the basics of his future profession. Thus, thanks to his experience, he was able to create technical sleeping bags.
In 1981, he began to put into practice the skills acquired in Argentina. The production is done at home. Then demand grew and production was moved to a local factory in Sheffield.
In 1990, the range grew thanks to its reputation for making equipment that was robust, authentic and full of meaning.
In the 2000s, the brand, still a pioneer in its field, offered new and innovative products with ultralight materials and revolutionary insulation technologies. In 2003, Rab retired and transferred ownership of his business to Equip Outdoor Technologies Ltd.
Rab continues to grow, thanks mainly to flagship products such as the jacket Microlight Alpine and the Kinetic Plusbut also with this constant desire to offer suitable products that are robust and efficient.
Introducing the Electron Pro Puffer Jacket by Rab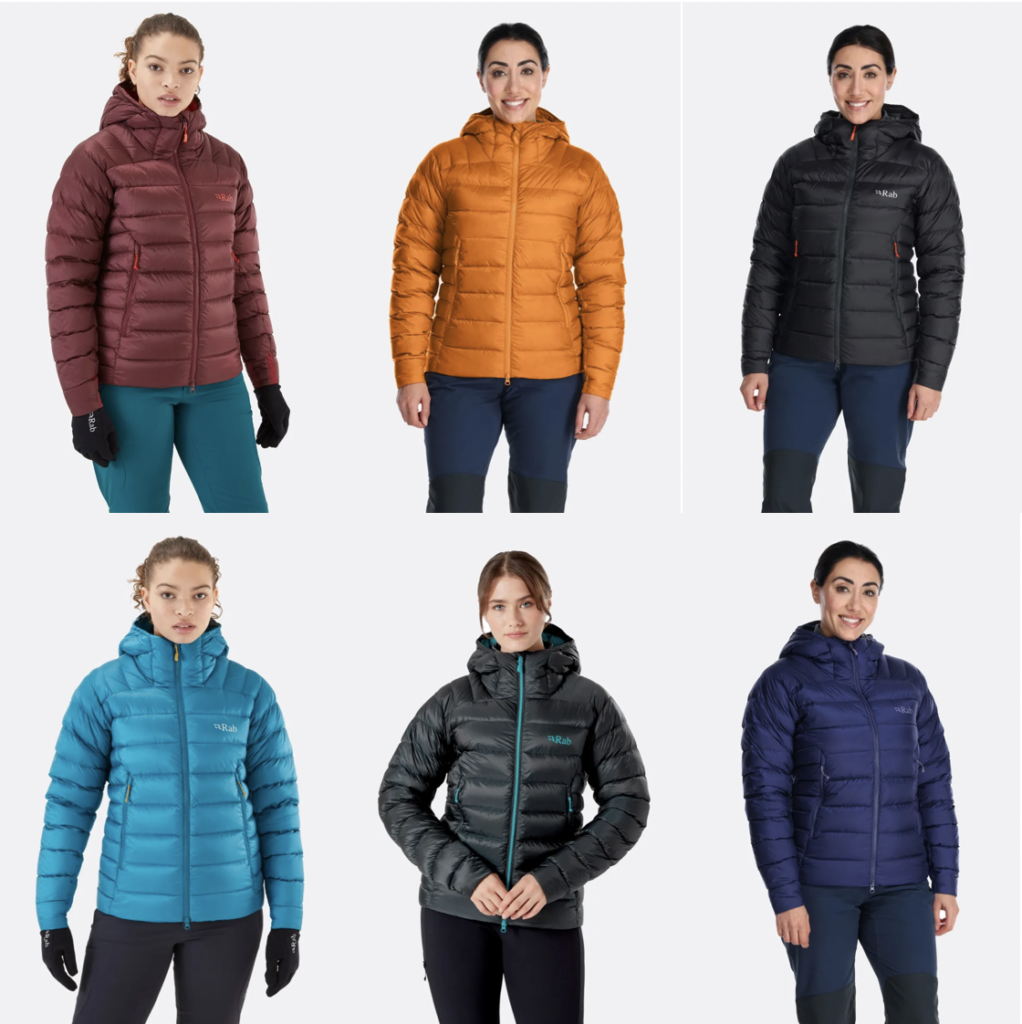 There puffy jacket Electron Pro by Rab targets women practicing rock climbing and mountaineering. It is made of lightweight, 100% recycled fabrics with high swelling power. This gives it to be warm, water resistant with a relatively light weight.
In addition, six different colors are available for this model and the sizes offered range from XS to XL.
Thus, I tested the burgundy red version, named Deep Heather, in size S.
Features
down jacket with hood, compatible with wearing a helmet, rigid visor adjustable by cord + scratch on the back
double zipper
hand pockets and a small interior
waist adjustable by drawstring
fabric part on the face/neck
tightened sleeves with stretch fabric on the cuffs
storage bag
100% polyamide with polyurethane coating and 100% recycled polyamide lining
800 fill-power European goose down with hydrophobic Nikwax finish. RDS certified down
20D recycled nylon lining, 38g/m2
main fabric: 20D nylon Pertex quantum Pro, 40g/m2, windproof and water resistant.
459g
Back to the field on Rab's Electron Pro Down Jacket
I was able to test this down jacket for several months of autumn and winter, in sunny conditions but also in wet or even rainy conditions.
First use
The down jacket is well cut and from the first threading, you can feel the softness of the fabrics in which it is designed. It's very nice. In addition, it gives a feeling of lightness and we easily forget it on us.
The inner fabric at the level of the face is very soft and gives a really appreciable warm effect. The color denotes a little, but nothing too embarrassing.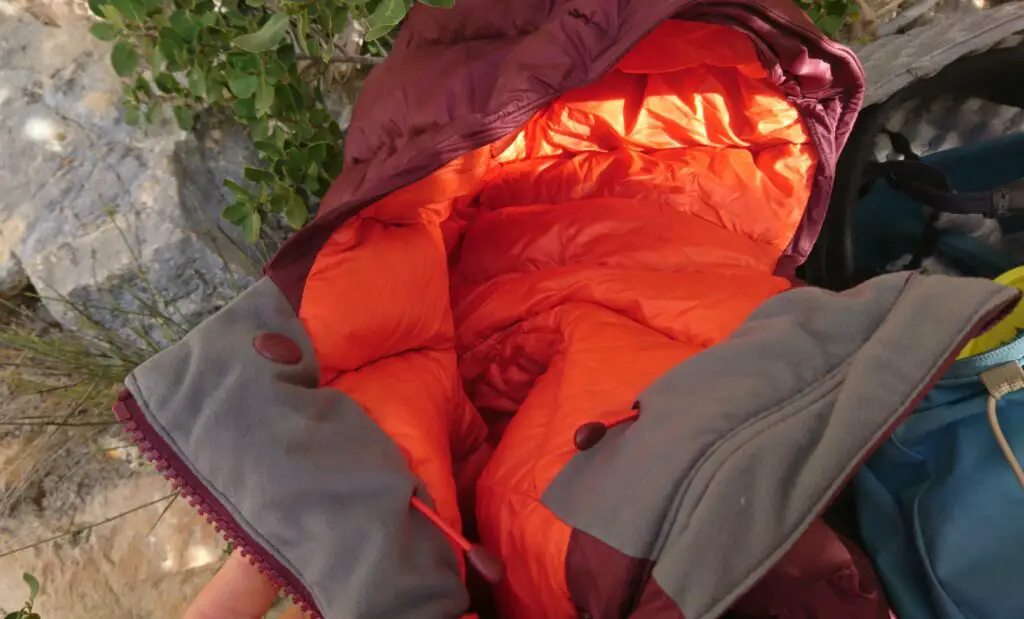 When you store the Electron Pro down jacket in its cover, it really doesn't take up much space. It is a cylinder about 20cm in diameter. It's really practical from a place point of view but also to avoid damaging it.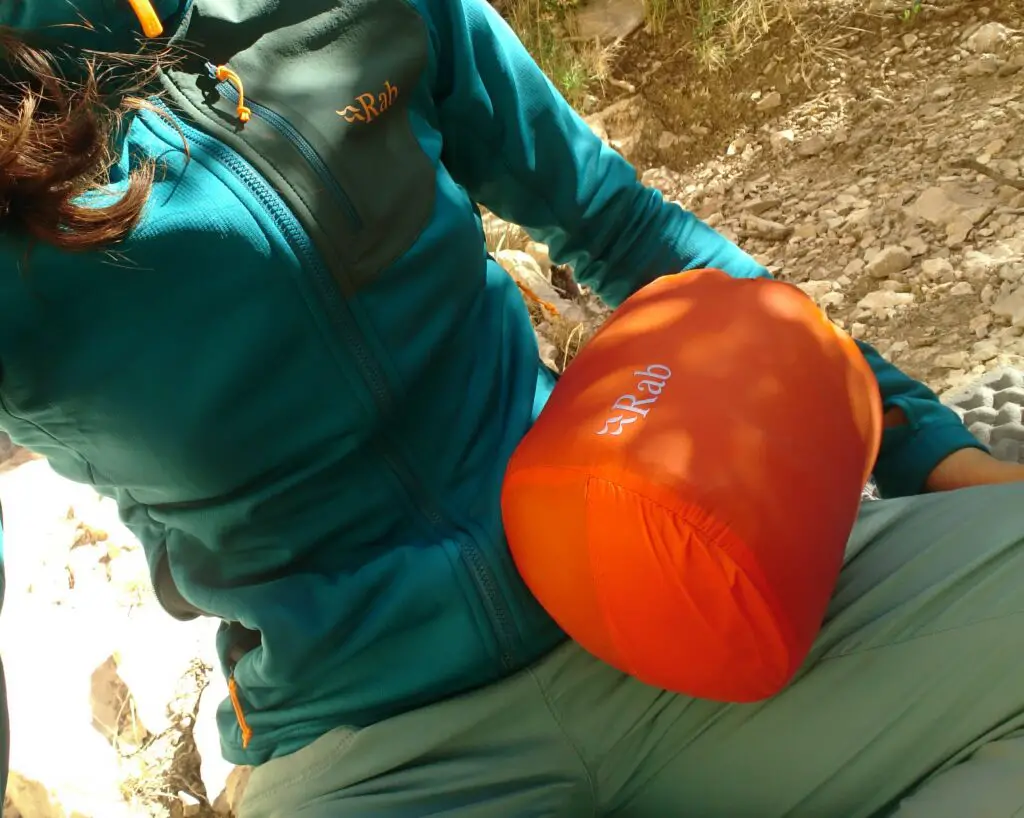 Return of the Electron Pro down jacket in climbing
I find it particularly well suited for climbing and mountaineering.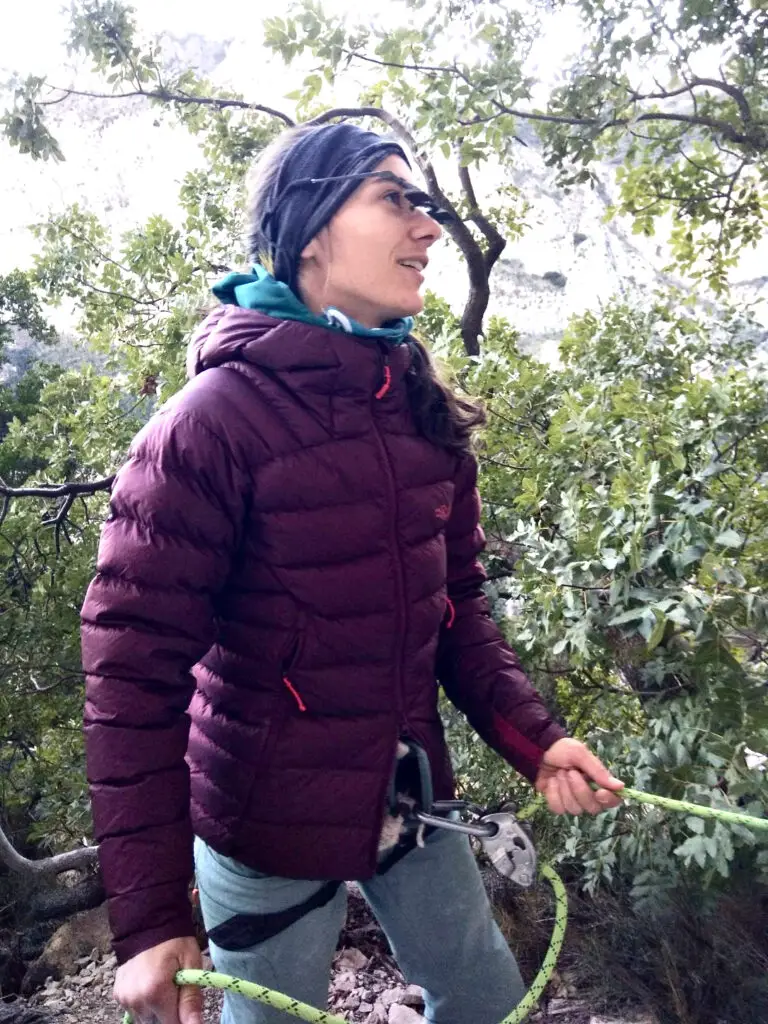 Indeed, several small details make it possible to adapt well to the specificity of these activities. For example, the double zip slider is really essential. It thus makes it easy to use the harness with the down jacket, whether for belaying or for approach walks requiring tying up/via corda… hood with its rigid and removable visor allows it to be used with a helmet while protecting the head from the cold. THE cuffs which are tightened allow you to keep the heat to the maximum while being much more practical than a scratch where its velcro can hang everywhere and be damaged over time. There storage cover is very practical not to damage it in the bag full of equipment but also to compress it well to prevent it from taking up too much space.
The outer fabric seems really resistant and this is a big advantage over down jackets intended for climbing where the risk of snagging is significant. This is often their weak point. On the other hand, the fabric gives static electricity and it is not always easy to tame the hair.
It is a down jacket where the outside comfort temperature is around 10-15°C. Below, the addition of thermal underlay such as hoodie by Rab Superflux or another, is required.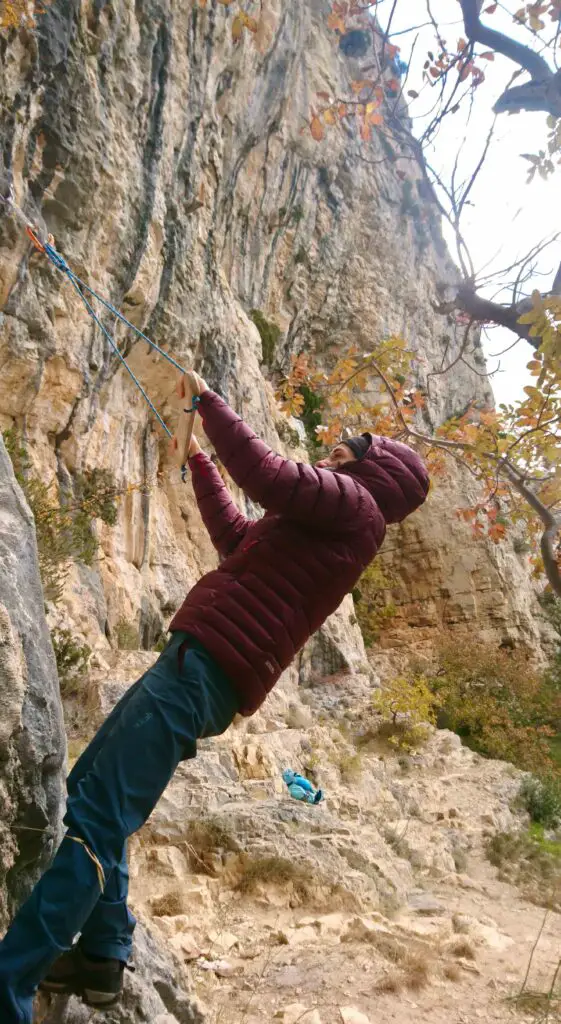 An option that could have been a plus and well suited for climbers would be to have two small mesh pockets on the inside, for example to slide climbing shoes. It's a technique that I use to warm the slippers to keep the climbing sensations as good as possible despite the cold. You can find other specific equipment and tips for winter climbing in this article.
Feedback on the Electron Pro down jacket in other activities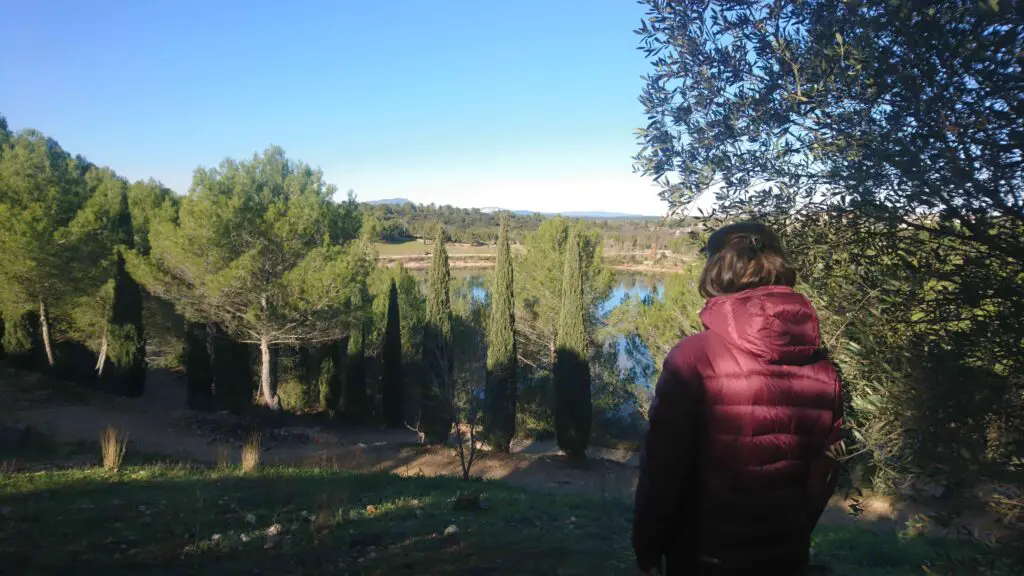 In addition to climbing, I was able to test this down jacket, during winter hikes, by bike or even on hikes, on a daily basis.
During an effort with the down jacket, we notice that it insulates really well because there is a very present feeling of heat. It really has to be very cold to keep it during exercise. I used it in bike in winter when the thermometer indicated -5°C with an underlayer underneath and a windbreaker on top. And I didn't feel the coolness at all on my upper body. On the other hand, during inactivity, do not hesitate to add additional layers.
The tight sleeves are not very practical with the use of a sports watch. The elasticity does not allow easy access to reach it. However, during activities, it may sometimes be necessary to refer to his information during practice.
The outer fabric soaks up drops of water quite easily but the down jacket insulates from the feeling of "wet" for some time. It dries quite quickly.
In case of wind, it does not protect enough and the body cools quickly. A windproof top layer is necessary in these conditions to optimize the insulating layer of the down jacket.
The color is not very dirty but the dust remains a little, it may be necessary to pass a little sponge to remove everything.
Too bad that some feathers have come out of the seams already.
In any case, this Electron Pro down jacket from Rab accompanies me even in activities other than climbing and it insulates very well in these conditions.
The advantages and disadvantages of this Electron Pro down jacket
THE benefits
THE disadvantages
Slim fit for optimal heat retention
Soft and pleasant to use
Solidity
Well suited for rock climbing
Can be worn everyday with pleasure
Static electricity
If it is wet or windy, intermediate layers are necessary
Conclusion and opinion on my feedback on the Electron Pro down jacket by Rab
This Electron Pro down jacket from Rab is really suitable for sports such as climbing. It has options very well studied for practice such as the double zip, the tightened wrists, the very resistant fabric… and a good special point for the very soft fabric at the level of the face. It accompanies me everywhere in cool weather on the cliffs, on hikes and even on a daily basis.