GOOD eat while hiking, when trekking or on a multi-day expedition is a priority. In the same way as selecting places to sleep or even the necessary equipment to transport, looking into thefood to plan is particularly essential. And for good reason ! These activities require significant physical effort. So you have to pack appetizing meals with a energy intake sufficient. Eating properly from morning to evening on an excursion must, however, be practical. Indeed, you generally do not have a lot of space or even all the essential utensils to cook like at home. Good news, today there is an alternative: freeze-dried meals. Lightweight, simple to preparevaried and delicious, dehydrated meals are an excellent solution for feeding duringoutdoor activities in complete autonomy. Which freeze-dried dish to choose for hiking, trekking or expeditions? We will give you some answers without further delay.
Freeze-dried dish: definition, operation and particularities
What is a freeze-dried meal?
If you have decided to go on an adventure in complete autonomy, you have undoubtedly faced a difficulty: how to eat properly without weighing down your backpack? One of the most effective solutions to counter this problem is to carry freeze dried food with you.
Freeze-drying is a technique that makes it possible to produce freeze-dried food from conventional food. In concrete terms, the food is frozen at very low temperature then dehydrated by cold drying (we speak of food sublimation). The product obtained is then placed in sufficiently robust packaging. Thus, it is protected from humidity and oxygen, preserving its conservation.
Freeze-dried dishes, in fact, can be stored for several years. Furthermore, far from being bad for your health, freeze-dried meals keep their quality and their nutritional properties.
How to prepare a freeze-dried meal?
Freeze-dried foods are rich and very easy to use. To consume them, simply rehydrate them.
Concretely, you have a practical and airtight bag that contains your freeze-dried meal. You just have to open it, add the quantity ofHot water indicated and wait a few minutes before eating your meal directly from the sachet provided.
You therefore do not need any specific equipment, apart from cutlery and something to heat the water to enjoy your food. Once this step is over, all you have to do is throw your waste in the appropriate places, pack up your things and continue on your way.
Which freeze-dried meal should be favored for independent outdoor outings?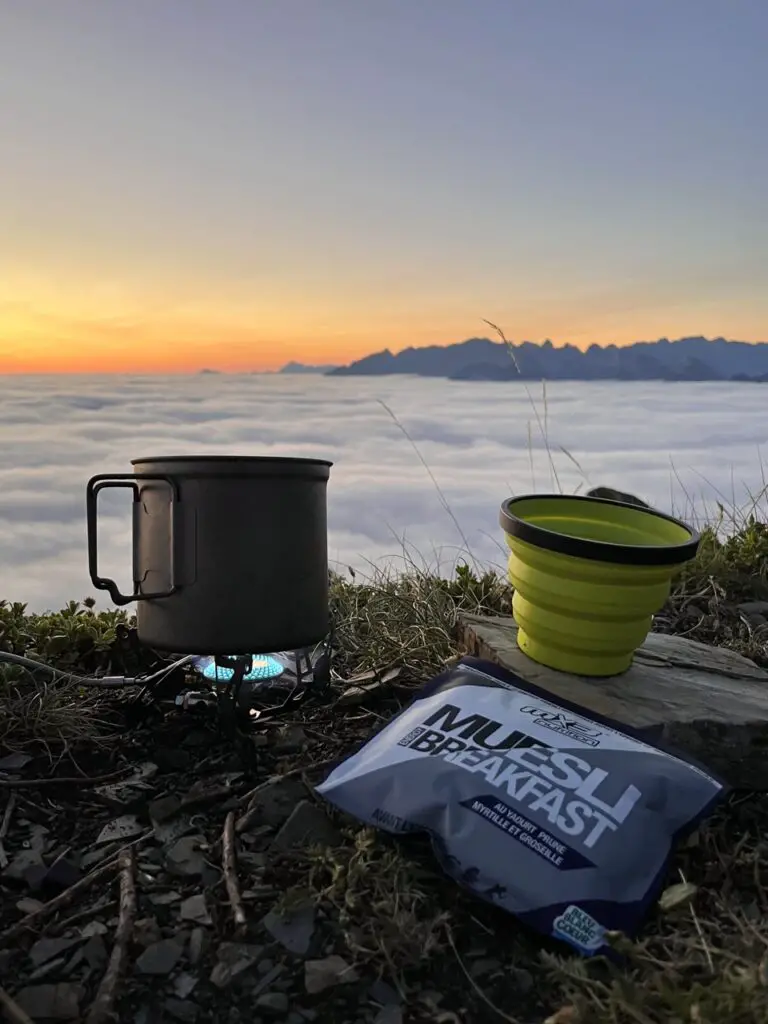 Consume freeze-dried meals is a great way to meet your dietary needs while trekking. Here are the options available to you.
What freeze-dried meal for a 2-3 day hike?
During a itinerant hike over two or three days, it is important to stay well hydrated, but above all, to eat well. However, if you are a seasoned hiker, you already know it: in your backpack, you can hardly take more than a stove and a saucepan. So forget the bags of pasta, fresh ground beef or vegetables that take up too much space.
To optimize the weight, size and nutritional quality of the meals you are going to eat, you can opt for freeze-dried meals. In this case, you can turn to MX3 Nutrition, a sports nutrition brand, to feed you. Thanks to the wide choice available, you will have enough to vary the pleasures, have enoughcalorie intake and make your three daily meals.
For example, during your hike of two to three days, you can carry in your backpack:
porridge or muesli (coffee, chocolate, vanilla) for your breakfasts;
a tabbouleh salad for your starter in summer or a vegetable velouté for your starter in winter;
paella, pasta with three cheeses or lentils with ham for your evening meal or lunch;
of the freeze-dried compotes banana or apple for your desserts;
of the energy bars or some beef snacks for your snacks.
What freeze-dried food for a week of trekking or ski touring?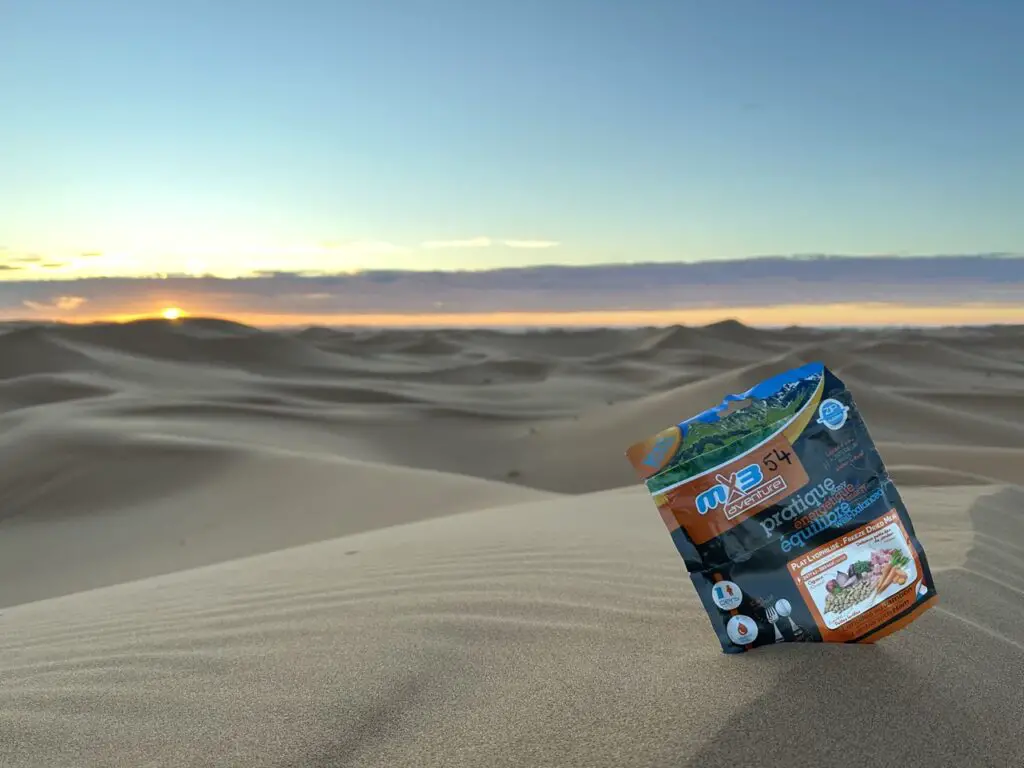 For a full week of trekking or ski touring, make sure to carry gourmet food, but above all high in calories to meet all your daily needs. Again, the MX3 Nutrition freeze-dried meals will fit perfectly. In particular, the brand launched in 2022 a range of high-calorie freeze-dried meals, with more than 1,000 calories per sachet.
If your excursion takes place in the summer, then you can bring:
of vegetarian rice;
a duo of quinoa and spelled;
a dahl of lentils with vegetables;
lentils with ham;
of provencal fish .
Conversely, if your trekking is planned in winter, opt for seasonal dishes:
aligot from Aveyron;
chilli con carne;
smooth vegetable soup ;
four-cheese fondue;
chicken mash;
tartiflette Savoyarde.
In addition to these main meals (dinner and lunch), also remember to bring breakfast (muesli, porridge), desserts (chocolate fondue, cream, compote, etc.) andin caseto consume quickly during a craving (beef snack energy bar).
Which freeze-dried food for an expedition?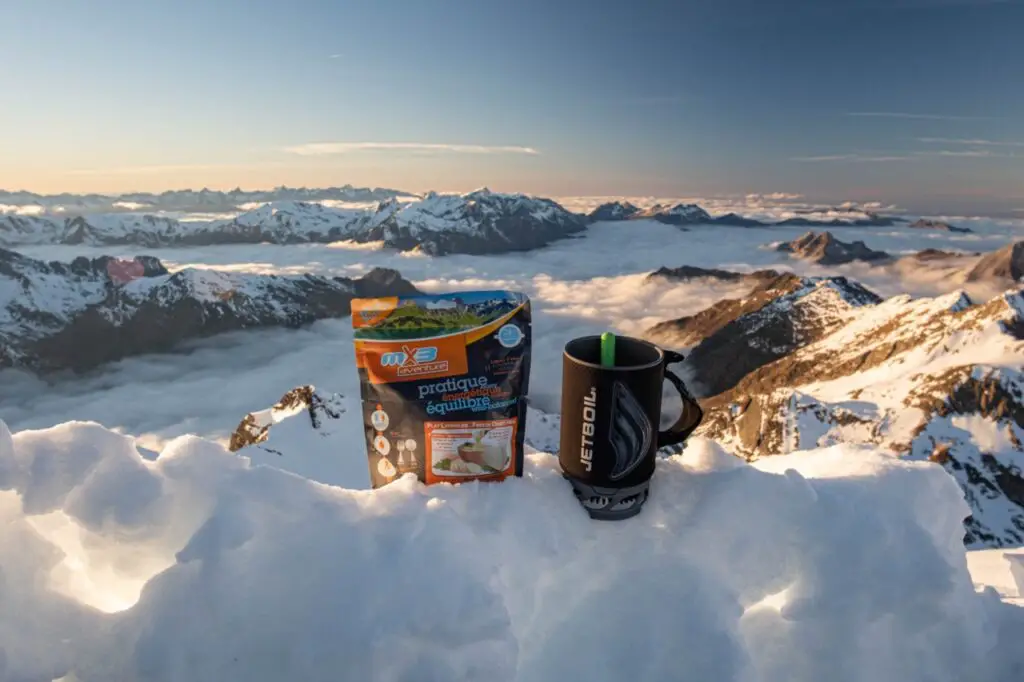 If you are planning a long expeditionbet on freeze-dried survival rations MX3 Nutrition. Very practical, these survival rations have been designed to provide you with all the energy you need for your excursions involving long periods offood autonomy .
So you can opt for:
the twenty-four hour survival ration pack;
the survival ration pack for seven days;
the twelve-hour survival ration pack;
the survival ration pack for one, six or twelve months.
These survival rations contain everything necessary to allow you to feed yourself completely independently during the period indicated. They usually include one or more freeze-dried mealsto rehydrate, cocoa drink or caffeinated, muesli for your breakfasts, energy bars as well as isotonic drinks to stay hydrated. These gourmet, high-calorie rations are suitable for beginner adventurers or experienced explorers.
The importance of testing meals before departure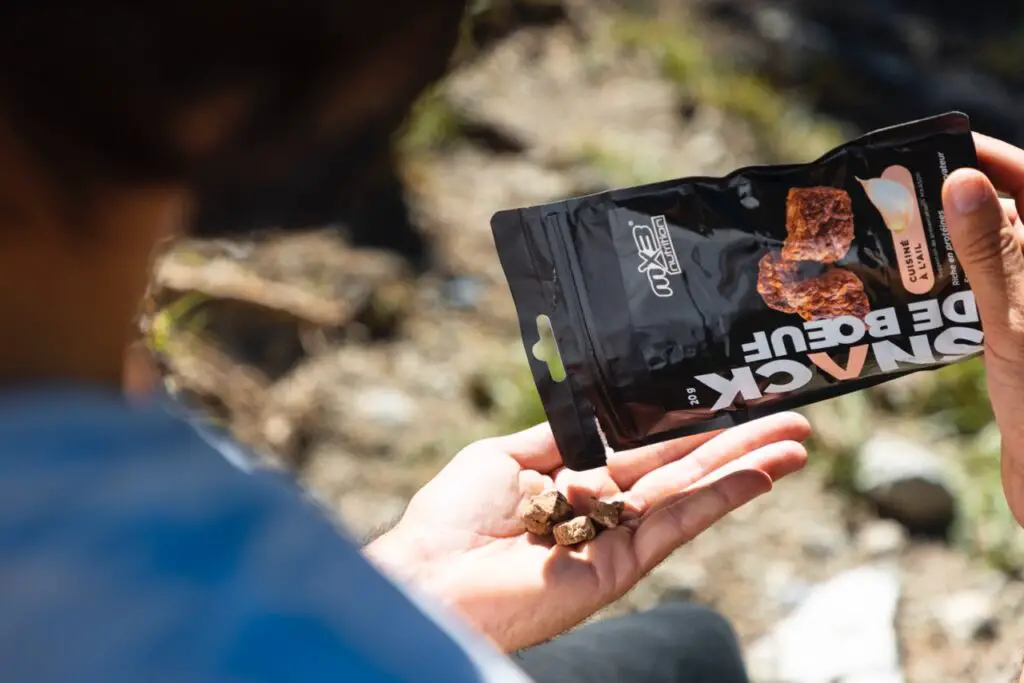 Note that it is important to test the dishes you want to take with you before starting your journey, especially if you are leaving for several days. This way you will avoid carrying with you foods that are not to your liking and having a bad time (in addition to running out of energy).
In the same way, in order to select the freeze-dried meals that you intend to ship, remember to check that:
the meal is actually easy to prepare;
the bags are strong, compact, light and airtight;
the chosen dish suits you and that it respects your possible food allergies (or obligations) .
The advantages and disadvantages of freeze-dried meals for outdoor excursions
Consuming freeze-dried meals on an excursion: notable advantages
Freeze-dried meals have some considerable advantages:
long shelf life ;
excellent retention of taste, color and consistency of the dish;
almost zero weightand low volume;
preservation of the main nutritional qualities of food;
rapid rehydration.
While it is true that freeze-dried meals have long been perceived as bland and expensive, these characteristics are no longer on the agenda today. Indeed, many French and international brands have looked into the composition of freeze-dried meals to obtain particularly impressive results.
It is possible to consume the three meals of the day (breakfast, lunch, dinner) and taste them from freeze-dried dishes without ever getting tired. These are currently available in a very wide variety, thus satisfying the most demanding athletes. You can, in fact, taste french dishesof the world recipes or even the organic food thanks to the principle of freeze-drying.
The dishes are relatively well balanced. They may contain starches, meat or fish, vegetables, spices or even be exclusively organic or vegetarian . Finally, thanks to them, you save yourself the heavy task of washing the dishes after cooking or spending time preparing your meal when you are already tired from the long expedition you have just completed.
The disadvantages of consuming freeze-dried meals while hiking or on an expedition
Freeze-dried meals have many advantages, but also have some disadvantages. In this case, they are globally quite expensive. Freeze-dried meals are generally more expensive compared to meals that you could prepare yourself. The freeze-drying process is, indeed, quite expensive, and this affects your bill.
Similarly, some brands offer dishes that are not always sufficient in terms of satiety, especially if you are a good eater. So be careful to check the caloric intake of the dishes you plan to bring to make sure that they will satisfy you well. If necessary, an alternative is to bring back some extra snacks.
Furthermore, if you are an avid practitioner of zero waste, freeze-dried meals may not be suitable for you. It takes one sachet per meal (or more if you take a starter and a dessert). At the end of the day, that's a lot of waste to haul.
Finally, unlike a homemade dish, you have less controlon freeze-dried dishes. You can't decide what you put in it or how much. If you are attentive to the amount of salt, sugar or lipids that you consume, the best thing is to take the time to read the composition of each dishin order to select only those that fully correspond to you.
A real revolution in the world for adventurers at heart, freeze-dried mealsare particularly practical for your outdoor outings. Thanks to their varieties, their richness and their taste, you are sure to eat properly and meet your energy needs during your hikes, your treks or your long expeditions.