Sulyvann FLOHIC shares with us his feedback from the field of the Ascent S-Thermic down jacket from Odlo, tested during his various adventures.
Presentation of the Odlo brand
Born in Norway in 1946 and relocated to Switzerland in 1986. Odlo was established in the Norwegian capital Oslo by Odd Roar Lofterød. This man, cross-country skiing champion in the canton of Oslo in 1933, began by making women's underwear in 1947. He made his brand an expert in technical textiles.
For more than 70 years now, Odlo has continued to meet the needs of outdoor enthusiasts by creating high quality clothing. Products that can meet the highest demands in order to face the most capricious terrain and weather conditions. Innovation is part of their DNA while having an environmental responsibility.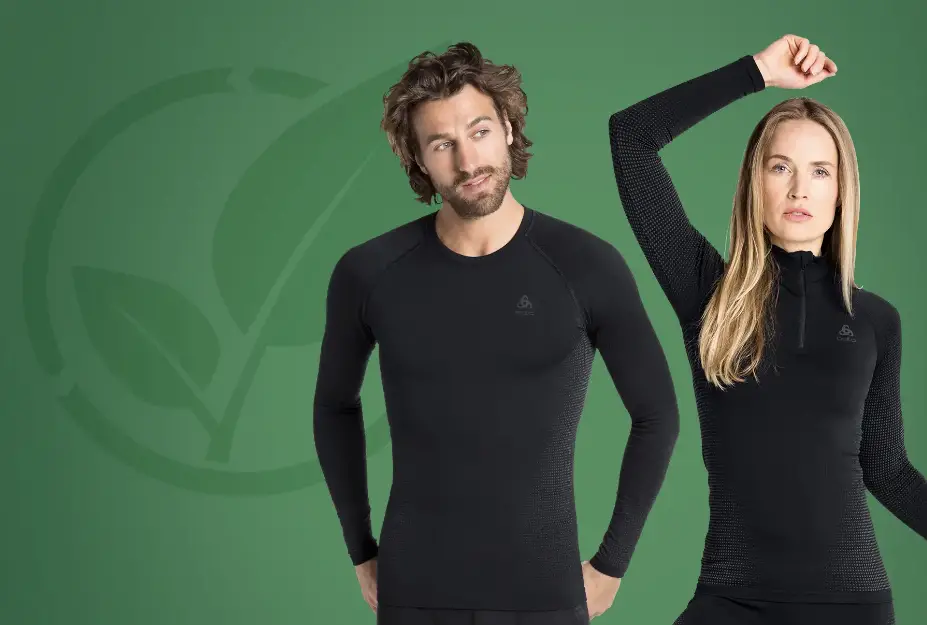 Three Core Sustainability Values
The ODLO brand is committed to the design of sustainable and environmentally friendly technical clothing. This is revealed through its logo. Its three-bladed propeller notably represents the convergence of its three fundamental values ​​in terms of sustainability: responsibility, action and transparency. All these parts are very well detailed on the official website in the "our company" section which I strongly advise you to consult if you wish to know more about ODLO.
A motto respected
Its creator, Odd Roar Lofterød, had the motto: "Always make sure you are one step ahead". This slogan perfectly reflects the values ​​of the brand, the leader in technical and thermal underwear for years now.
Introducing the Ascent S-Thermic Jacket from Odlo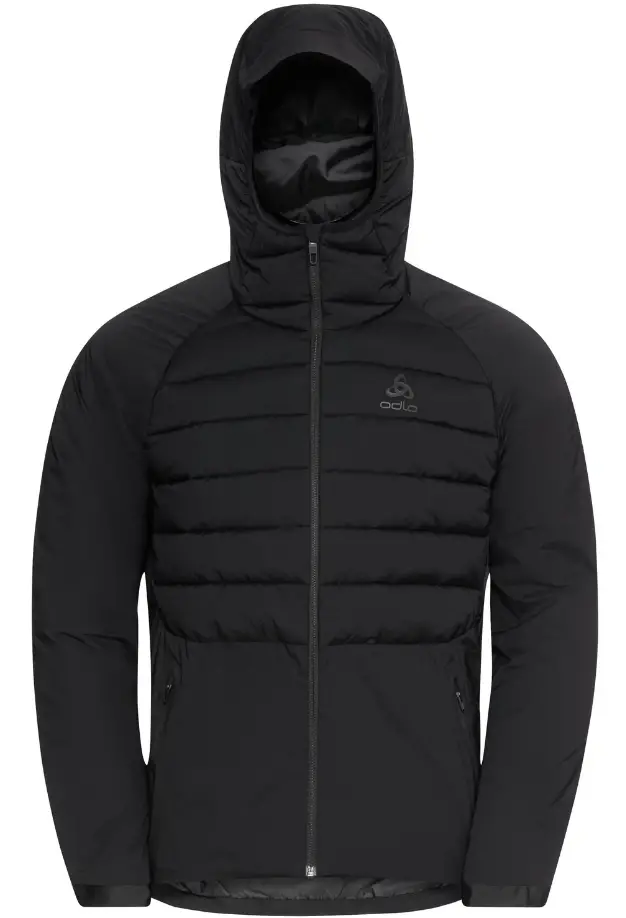 The Odlo Ascent S-Thermic down jacket is designed for all your activities: hiking, climbing, snowshoeing, cross-country skiing and even in everyday life, to try it is to adopt it.
Features of the Ascent S-Thermic down jacket
Here are the characteristics of the down jacket given by its manufacturer, Odlo:
Thermal regulation of synthetic fibers
Superior breathability
Light
Water repellent
Adjustable hood
Zipped hand pockets
Zipped inside pocket
recycled clothing
And to wrap it all up, it's a fitted jacket, an athletic cut, comfortable to wear.
Composition of the jacket
Main material: 51% Polyamide (recycled)
37% Polyamid
12% Elastane Main fabric 2: 51% polyamide (recycled)
37% Polyamid
12% Elastane Lining: 100% Polyester (recycled) Filling: 100% Polyester (recycled) Insert I: 78% Polyester
22% Elastane Insert II: 100% Polyester Insert III: 100% Polyester
Technology in this Odlo jacket
Indeed, the Odlo down jacket is armed with two great technological innovations that make it an innovative jacket.
S-Thermic: Exceptional insulation even when wet, after a nice downpour or a good sweat. S-Thermic garments feature Primaloft ThermoPlume, a synthetic fill made entirely from post-consumer recycled insulation. Mimicking the look and feel of natural down, it offers exceptional heat retention (identical to that of a 550 down jacket) and its fibers are water resistant.
G-Loft: The durable G-LOFT ECO insulation is produced in Europe. Breathable, light, stretchy, heat-resistant synthetic insulation and icing on the cake, it comes from recycled material, another positive point for this down jacket.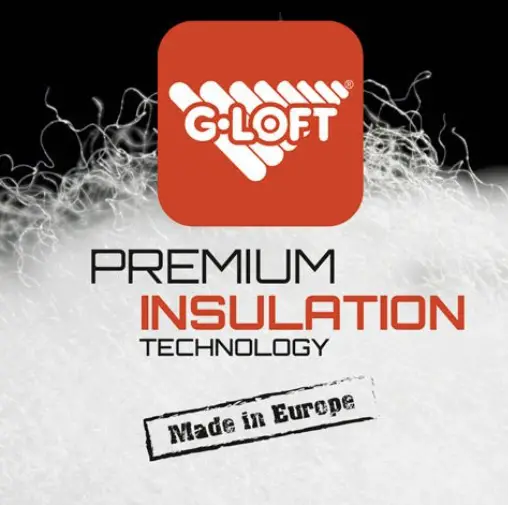 A wide area of ​​use: WARM
As you may have noticed if you are a regular at Odlo, the brand classifies its products in different brackets depending on the outside temperature and the activity you are going to do. You will find clothing from the x-light category at x-warm. This Ascent S-Thermic down jacket, classified in the "Warm" category, will be effective on a broad spectrum. According to Odlo, a garment classified as warm corresponds to excellent thermal insulation. It retains heat when it is cold outside. The properties of the fabric wick away moisture, so the skin stays as dry as possible and you stay warm. The thermal qualities of the fabric make it an ideal companion for all winter activities.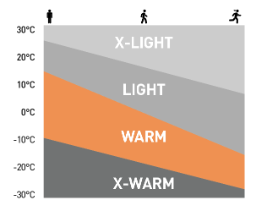 Field test of the Odlo Ascent S-Thermic down jacket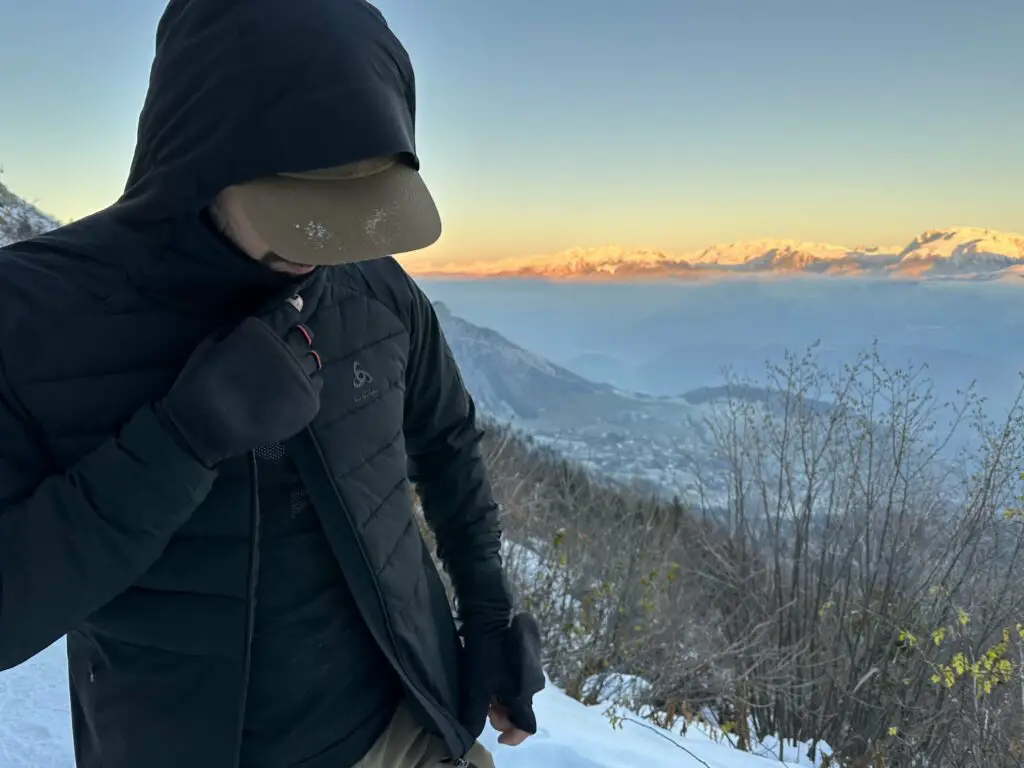 A good first impression
You only have one chance to make a good first impression and for the Odlo Ascent S-Thermic jacket you win.
Once the down jacket came out of its packaging, I was immediately won over by its quality. It is light and compact. Be careful, it is not as compressible as a down jacket, but it is still very compact. I also appreciated its fitted cut, an athletic and adjustable cut with different elastics at the bottom of the jacket, at the hood, but also a stretch fabric at the wrists. The pockets are also very pleasant to the touch, a soft interior, a nice detail.
Definitely all the lights are green to go on an adventure with the Odlo Ascent S-Thermic jacket, let's go.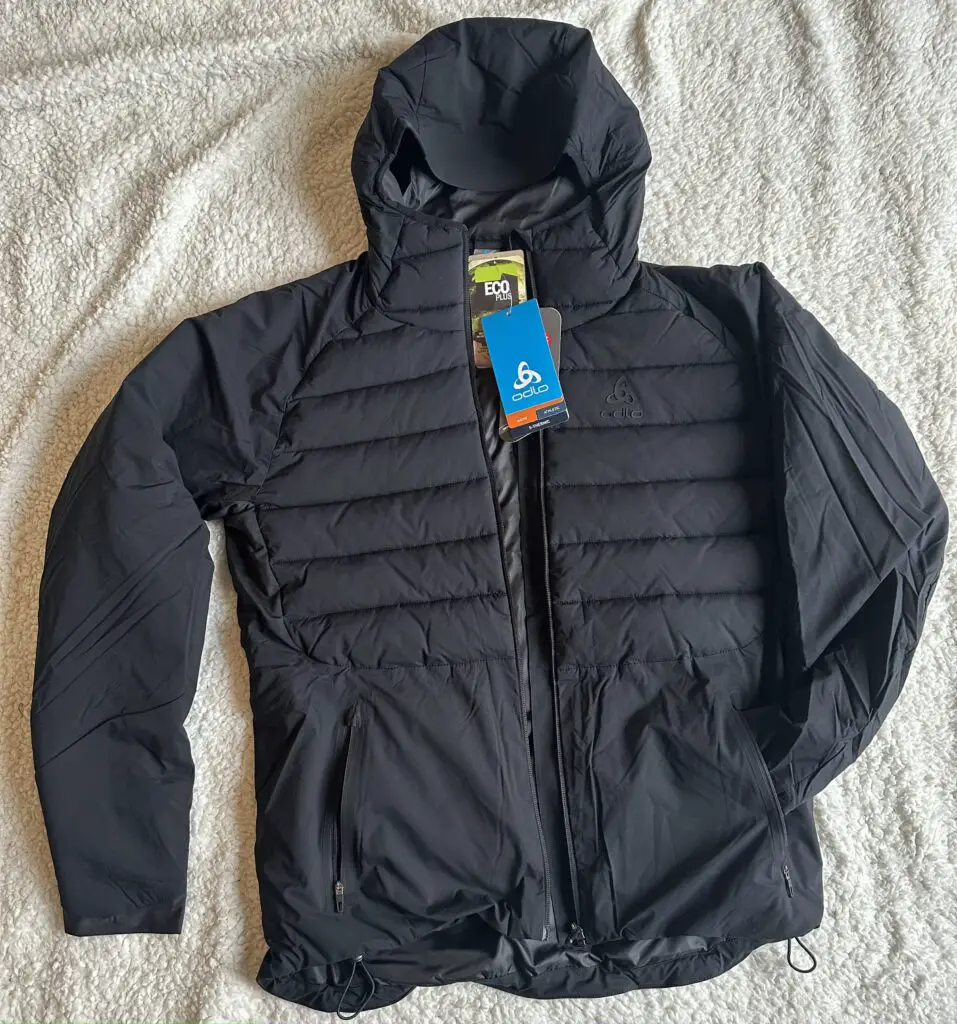 The first strides in the Vercors
At the beginning of December, as a first test, I set off on a short 3-day excursion. Immersion in the Vercors, a departure from Villard-de-Lans to Clelles. I shortened the trip because the conditions weren't ideal, nothing serious. I still took advantage of this beautiful playground to test the Ascent S-Thermic jacket from Odlo.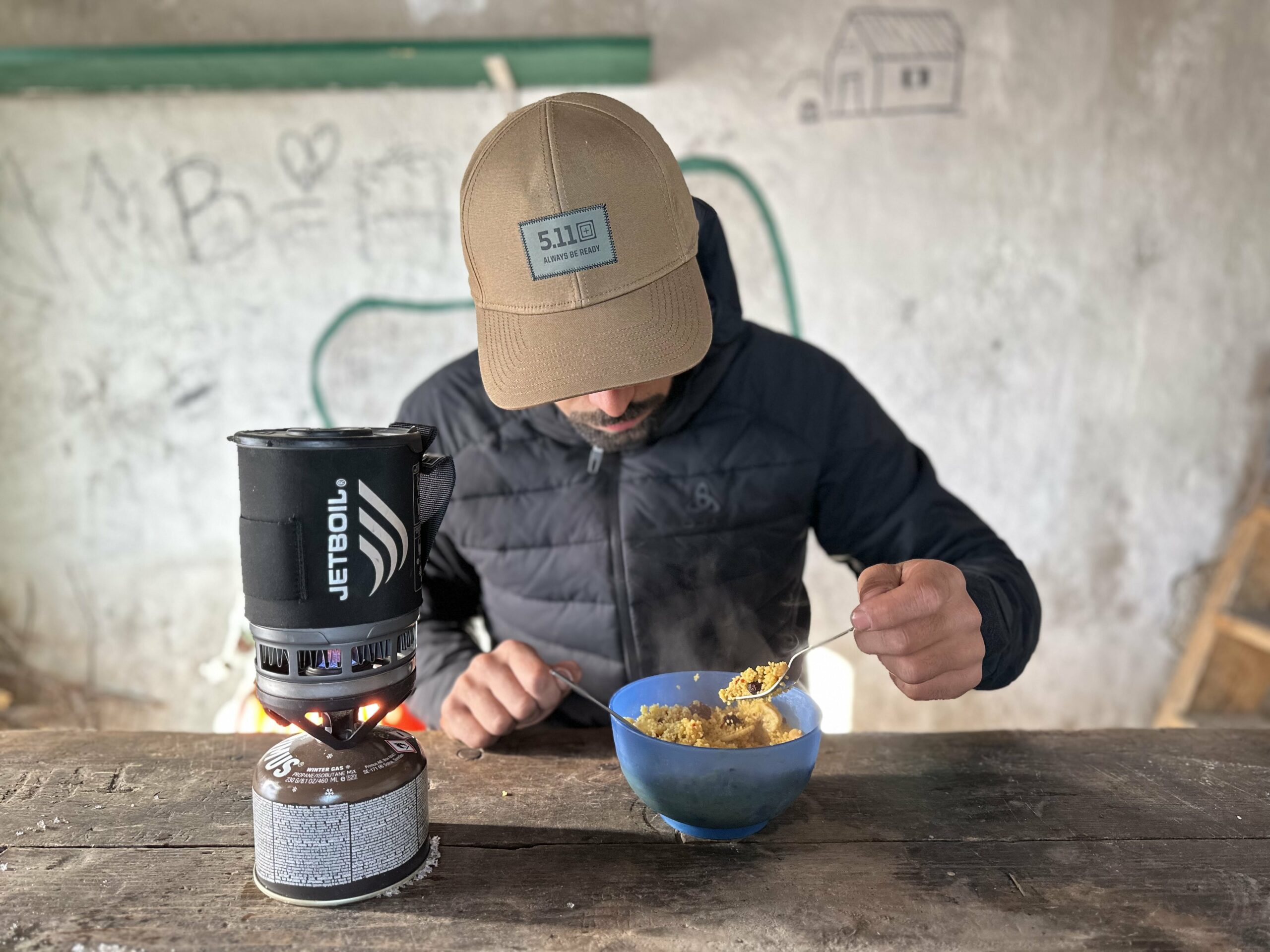 Indeed, the negative temperatures were at the rendezvous. A passage of the green pass at 1766m altitude by -10 degrees accompanied by a biting wind, at that moment I touched the limits of the Odlo Ascent S-Thermic down jacket. I had on top, as the last layer, my Gore-Tex Millet jacket but that didn't prevent me from feeling the cold permeate my body.
In the evening during the meal in an unguarded cabin, the jacket is very good. It's -4 degrees, I'm neither too cold nor too hot, enough to enjoy the meal and the sunset without chattering my teeth.
A ski touring trip in the Mercantour massif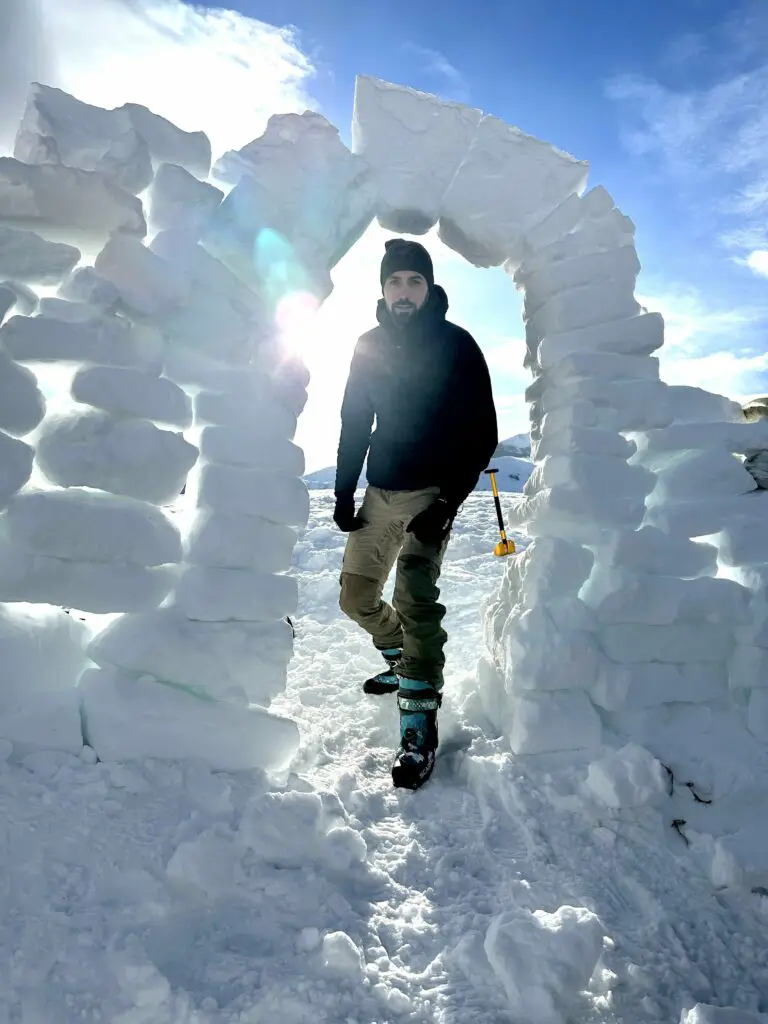 It's time for a second field test. Direction the Mercantour, more precisely in Auron for a winter bivouac by -15 degrees. Departure in ski touring, a first for me.
If, like me, you want to get started in this discipline, here is an article that will surely interest you: Ski touring check list.
First of all, arrived at the place of bivouac, we install the bed for the night. On me, the Ascent S-Thermic down jacket and I'm fine in -10 degrees. Nevertheless, in the evening by -15 degrees and motionless or almost, it is not sufficient. Nothing surprising, it is not designed for these temperatures in static mode, fortunately I had enough to cover myself.
Review of the Odlo Ascent S-Thermic jacket test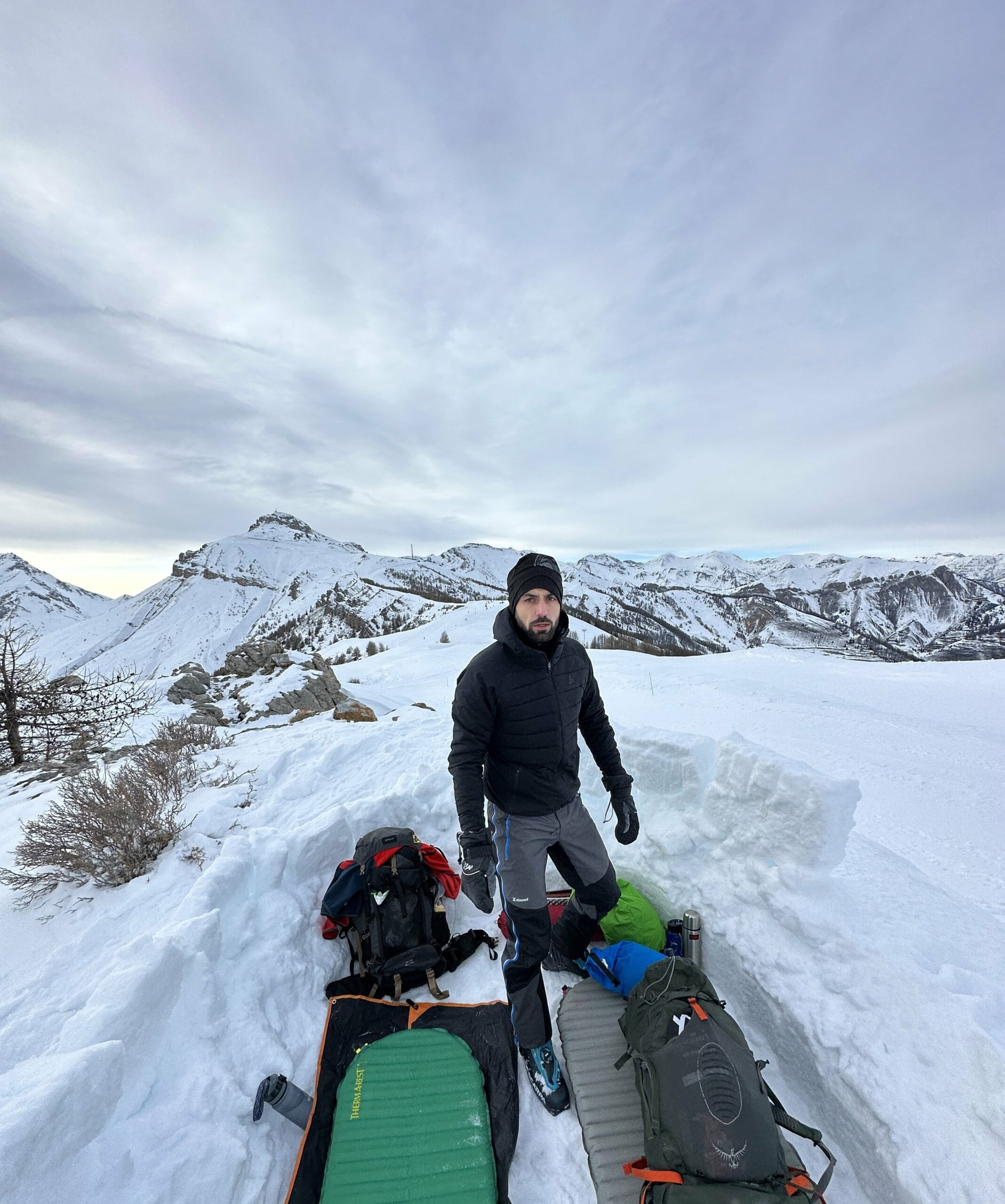 During the tests carried out, the results are very satisfactory for the moment. The down jacket meets my expectations, it keeps the heat as indicated in the Odlo recommendations. It is water-repellent, be careful, I haven't tested it in heavy rain, maybe the next test? In addition, is it still as insulating once soaked? Is S-Thermic technology really effective?
The real plus of this jacket, it goes everywhere! I now wear it in everyday life for walks, shopping and so on. A very pleasant jacket, remarkable flexibility and comfort.
I haven't finished testing the odlo down jacket, I can't wait to go back on an adventure to see how it behaves in other situations and above all to evaluate it over time, see its durability and tell you more .
See you soon for new adventures. Please don't hesitate if you have any questions!