Thibaud Pons shares his feedback from the field and gives us his opinion on the Ferrino mountaineering bag Instinct 65+15L
Presentation of the Ferrino brand
Ferrino is an Italian brand born in 1870. Initially manufacturing waterproof fabrics Ferrino today equips the greatest explorers and mountaineers in backpacks, tents and other equipment.
Since then, the brand has evolved and offers equipment for mountaineering, expeditions, trekking, travel or just camping. Known for its tents at the base, Ferrino is now diversified. The brand offers sleeping bags, technical clothing, backpacks, snowshoes and outdoor accessories.
There Ferrino brand is also committed to a sustainable development approach by these actions. Indeed, the brand offers repair our equipment and to take back our old material to transform it. Today we find a lot of equipmentnts in recycled materialss on their site. Finally, the brand encourages its customers in a good practice of outdoor sports and it supports athletes who are also committed to protecting our environment.
To learn more about the Ferrino brand:
Introducing the Ferrino Instinct 65+15L mountaineering bag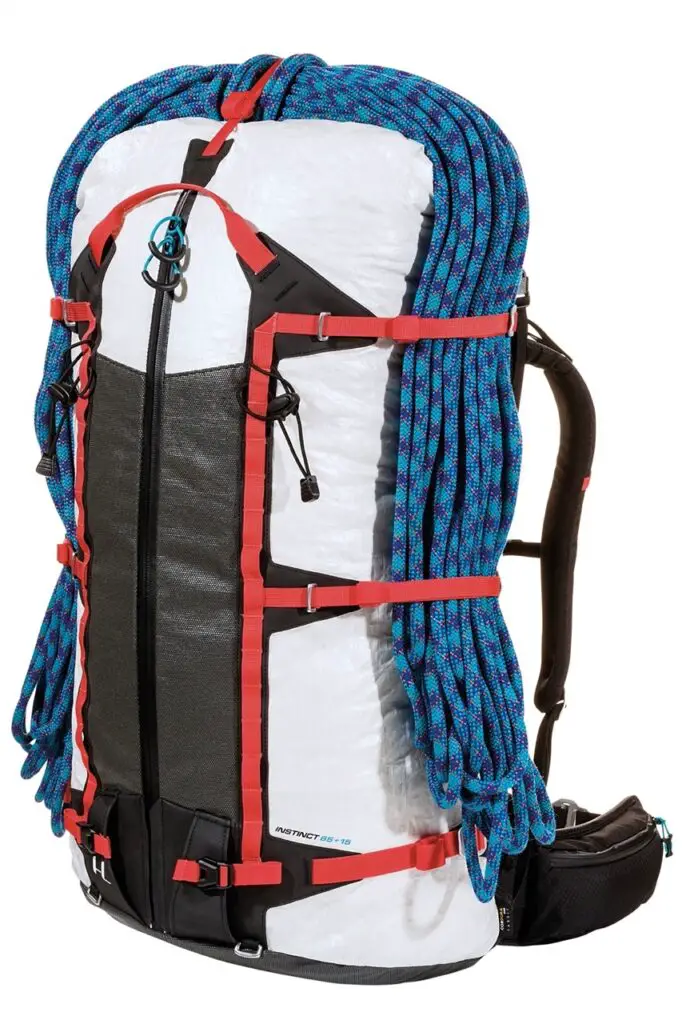 THE Backpack Instinct 65+15 is a mountaineering backpack versatile which can be used for climbing, your approach steps in ski touring or freerando, ski mountaineering, mountaineering, trekking.
He consists of a large compartment where you can store the necessary equipment for your various outings. This compartment has a space dedicated to storing the shovel and the probe. The exterior, on the other hand, has all systems necessary for transport your equipment : crampons, skis, ice axes, quickdraws, rope, helmet.
You can also find a storage pocket on the belly strap and one at the top of the back for essential or personal effects.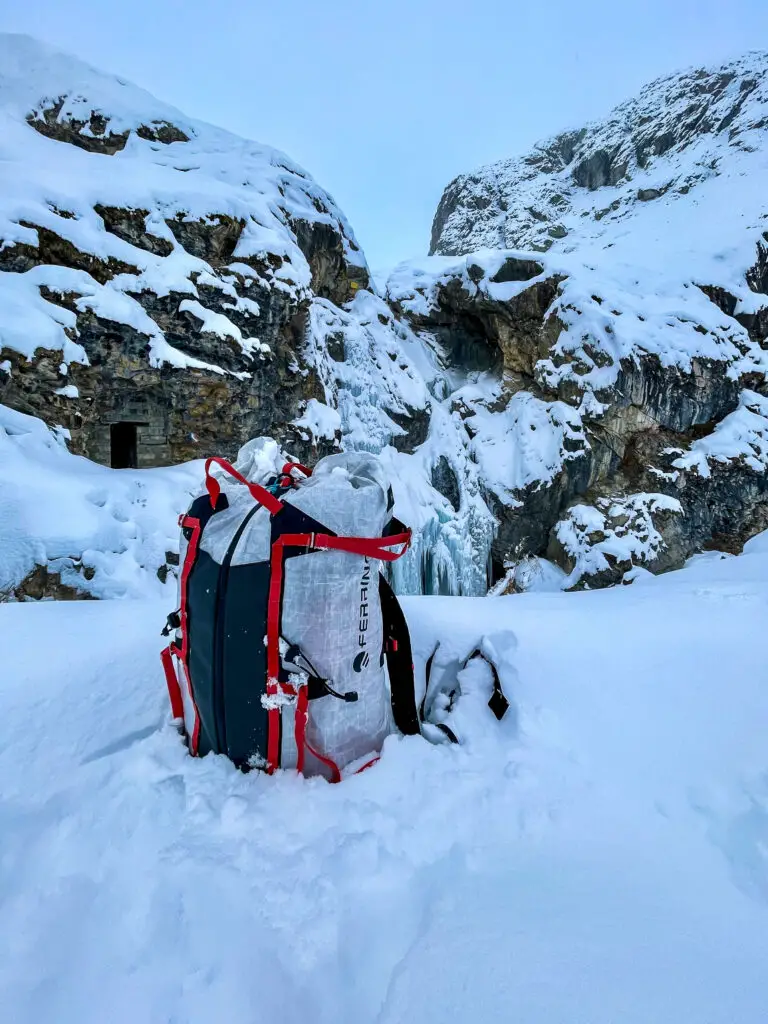 Very well designed, this bag has bars and a back panel to support the back and distribute the load. Compression straps allow the bag to be adjusted according to the filling of the main pocket. The materials that compose it allow it to be waterproof and ultra-resistant. Some parts of the bag such as the back panel, the belly strap are even removable depending on the use to lighten the bag.
To conclude, the Ferrino Instinct 65+15L bag is very technical while remaining very minimalist. It displays a weight really light compared to its volume: 1.64kg to 1.10kg by removing the removable accessories.
Technical description of the Ferrino mountain bag
Weight : 1.64 kg (with all accessories) and 1.10 kg at the lightest
Liter : 65+15L
Dimensionsmall: 76x35x31 cm
Back : "Hollow back system" breathable and comfortable
Two ice ax holders
Side ski rack
Internal shovel/probe pocket
Side compression straps
Top rope carrier strap
Removable carrying belt
Chest strap with integrated whistle
Gear loops on carrying belt and internal back
Helmet holder
Recommended retail price (end of 2022): 439 euros
Composition of the Ferrino alpi bag
Dyneema® Composite Fabric
Double Dyamond Cordura® Nylon
SuperFabric® reinforcements
Description and video demonstration
Field test of the Ferrino Instinct 65+15 bag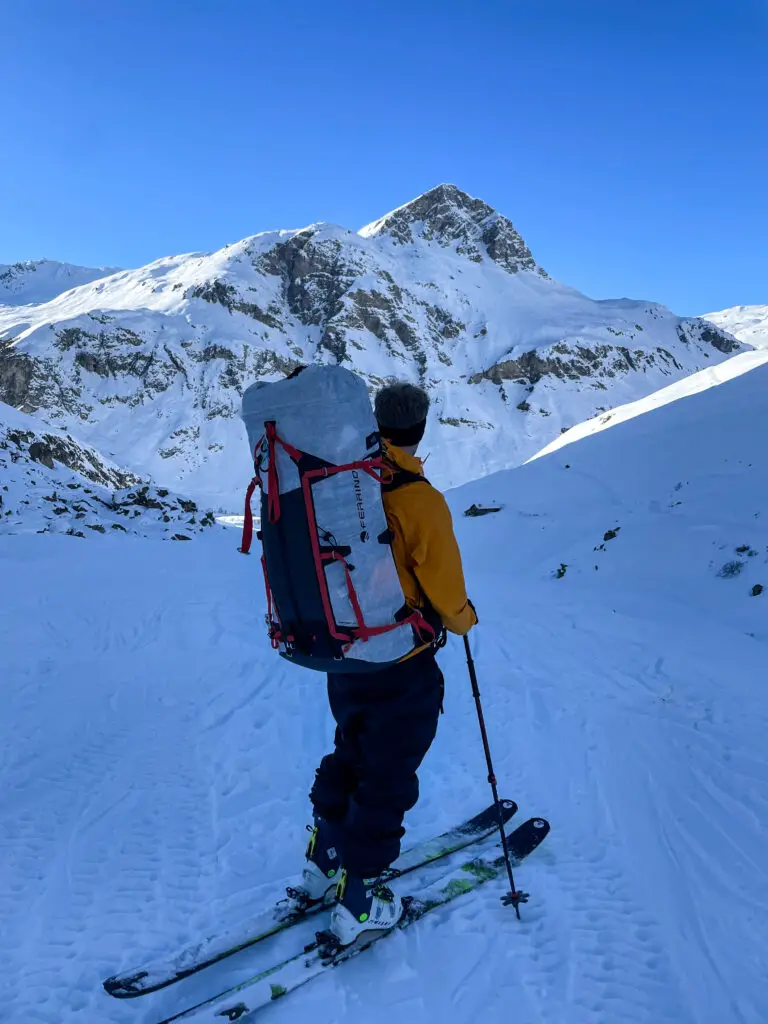 First of all I would like to thank Outdoor experience and the brand Ferrino for the test of this magnificent backpack. I was able to test the bag Ferrino Instinct 65+15 during various mountain outings during winter 2022/2023. Especially for my outings in ski touring, bivouac, mountaineering, snowshoeing. I even made daily use of it to carry my climbing gear.
Minimalist and comfortable
In first impressionI found the Ferrino Instinct 65+15 bag very clean, the material of the main pocket gives a simple and robust appearance. I saw directly that the bag was waterproof and I really liked that aspect. I did not look at the characteristics of the bag at all before receiving it. Its lightness really surprised me, very few bags of this volume are so light!
With such a simple design I was afraid it would lack comfort. Consequently, I hastened to test it well filled out on a simple walk, then on a snowshoe outing and to finish on a ski touring outing with a load between 12 and 18kg. I I was blown away, this bag has nothing to do with it envy trek bags. In fact, the lumbar and chest strap and the back support system offer a exceptional quality of comfort.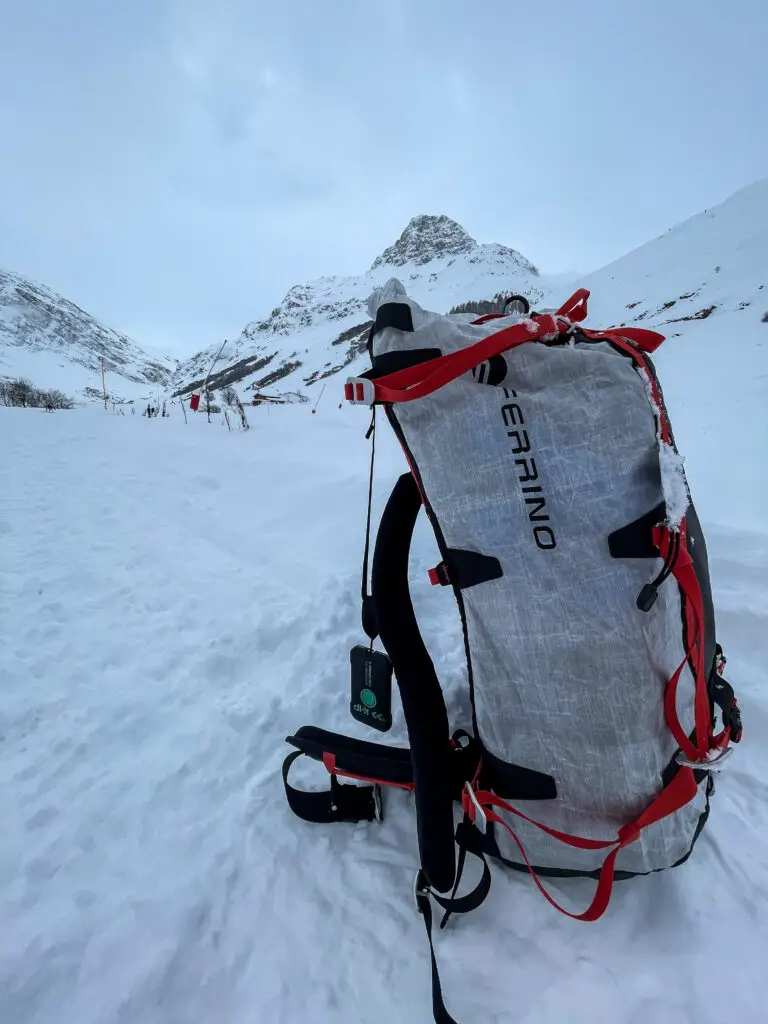 Versatile the Ferrino Instinct 65+15 will accompany you everywhere
Categorized as a mountaineering bag, this bag has followed me during multiple activities. Due to its removable accessories and its different carrying systems, this bag can follow you during all your mountain activities.
There inside pocket for shovel and probe is very practical and allows the use of the bag for Freeride outings. If you combine it with the ski holder, the ice ax holders and the crampon attachment, you can use it during short approach walks or downright in ski mountaineering.
It's not the season but with the rope strap and the helmet holder this bag can also accompany us during our climbing sessions. I also made daily use of it to transport my equipment during my indoor sessions this winter.
Given its large volume and its comfort, as I explained previously, I even used this bag during a winter ski touring trek of 2 nights and 3 days. Again, it turned out excellent.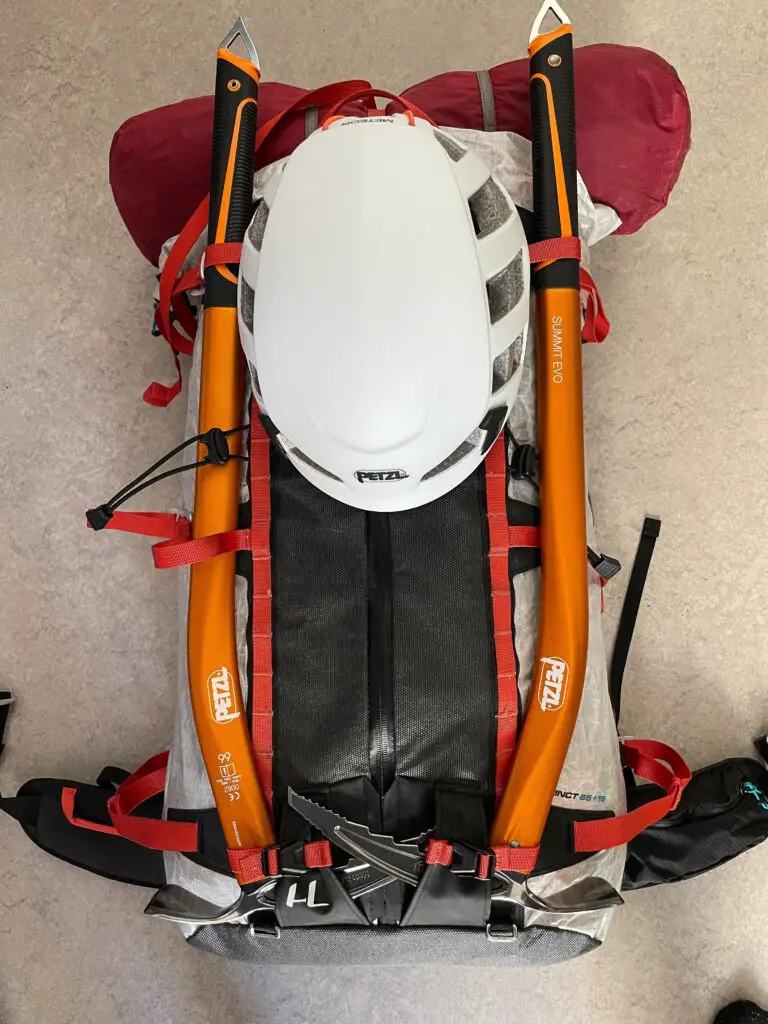 Resistant and waterproof
The fact that the materials used for this bag make it completely waterproof is a point that I really loved and which seemed to me essential for the desired use.
In addition, fabrics and materials used are extremely resistant. Finishes, seams and zippers are also of very good quality.
After 3 months of daily use for indoor climbing and about ten outings on various mountain activities, some of which over several days, the bag shows no signs of wear. I'm sure it will last over time and accompany me for several years.
Convenient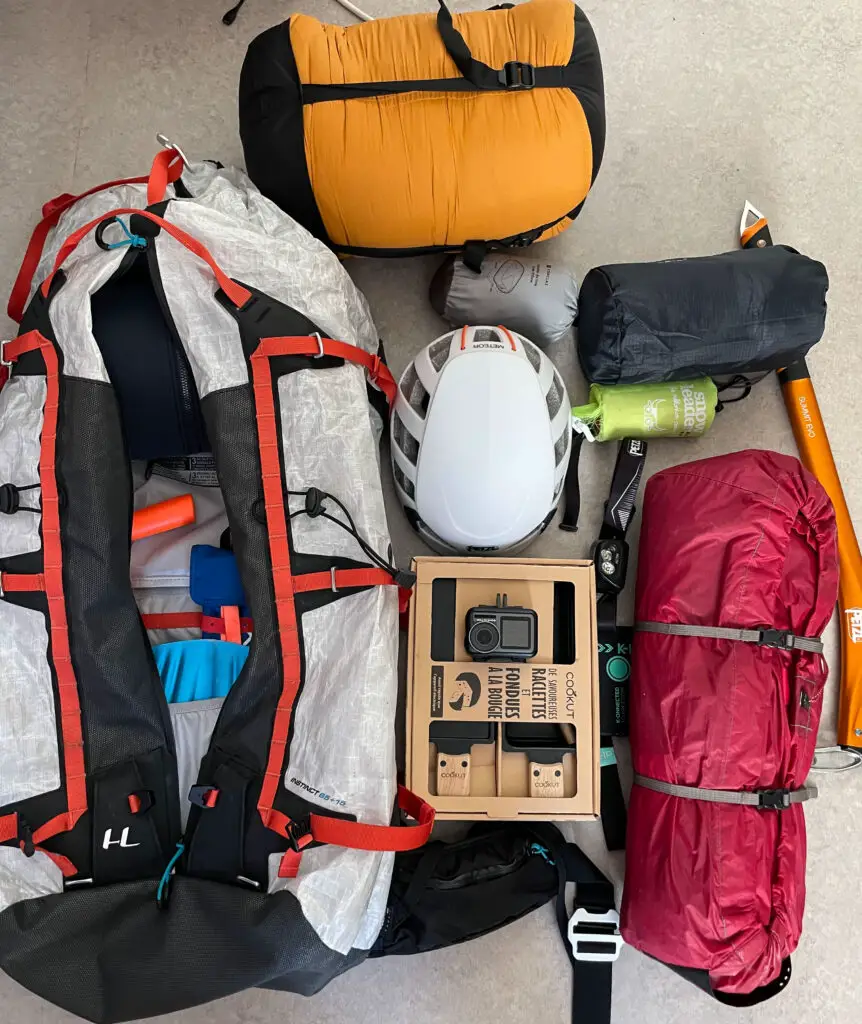 As mentioned above, the Ferrino Instinct 65+15 bag is very sleek and has 3 pockets. A small pocket is located at the top of the bag at the back. The large front pocket and gives very convenient access to all business. A final pocket is located on the lumbar belt.
As with many bags, it's a shame that the pocket on the waistband isn't a little bigger so you can put the phone in it.
Conclusion on the Instinct 65+15 Ferrino mountaineering bag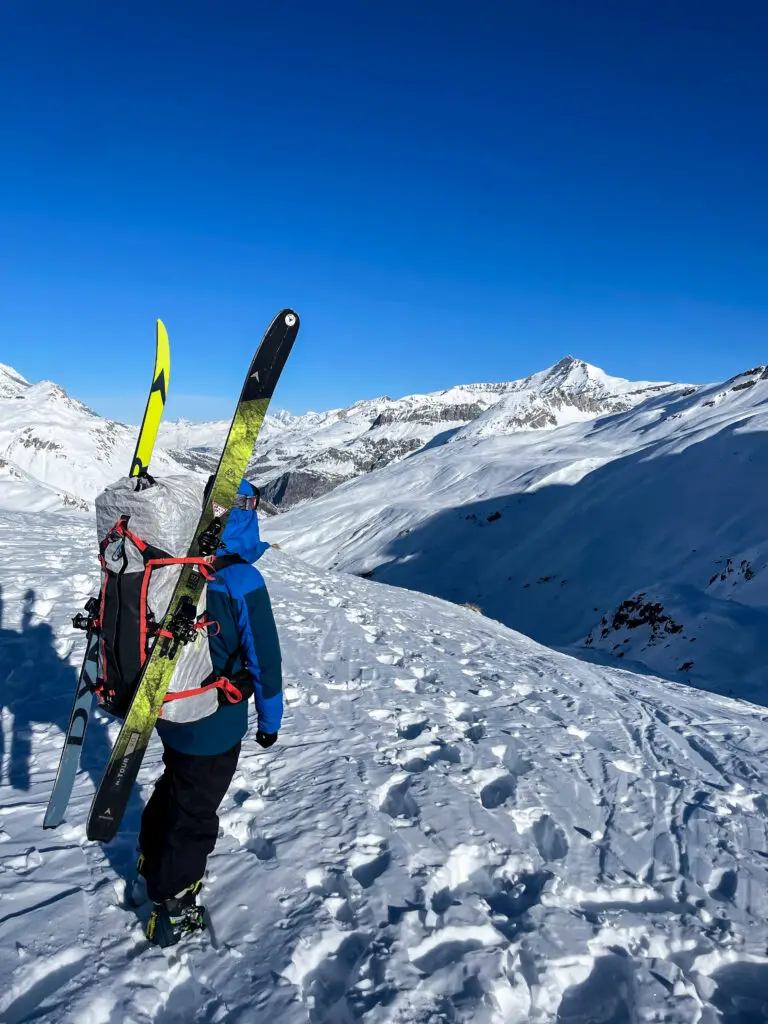 This test of the Ferrino Instinct 65+15L bag was very conclusive.
For starters, I really enjoyed the comfort of the bag once again. Indeed, I had no back or shoulder pain during my outings. Sometimes I even forgot that I had a bag. Having already been able to test it on several activities, I know that this bag will be able to accompany me summer and winter on my outings in the mountains.
To conclude I would say that I was really impressed because everything you can ask for in a bag is there.
Versatility, quality, resistance, comfort, lightness. A wise choice for your next expeditions.
I also encourage you to read the review of its little brother, the Instinct 40+5 alpi bag tested by Thomas Seramour: