In this article we present the essential outdoor magazines to read to be aware of all the outdoor news, help you find ideas for trips or micro-adventures
Magazine Adventure diaries
Do you know the adventure journal magazine ? …. Not yet! Here is a presentation of this essential outdoor media.
What is Adventure Logs?
It is a quarterly magazine distributed in newsstands which exists since 2004. It is printed in France on 100% recycled paper having a Imprim'Vert label .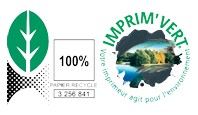 Its editorial line is itinerant sports travel in nature and without engine. That is to say on foot, by bike or by canoe-kayak, but also by skiing, sailing, paragliding, etc., and with at least part of the nights spent in bivouacs.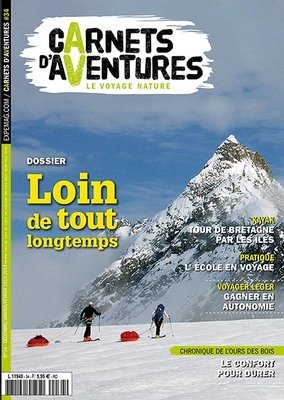 The very beautiful adventure stories that you will read there are written by the travelers themselves. This is the best guarantee of the diversity of points of view, activities practiced and destinations: some trips are made as a family around the house for a few days, others last several years around the world.
Through these stories and many technical advices, the magazine Carnets d'Aventures strives since 2004 to promote the nature trip. Without an engine, the environmental impact is obviously reduced, and the pleasure, thanks in particular to the more intimate contact with nature and the people encountered, is greatly increased.
What do you find in the magazine Carnets d'aventures?
nature travel stories, accompanied by numerous photos, written by the adventurers themselves.
technical files on the material, the equipment, the problems of the trip in full nature.
hardware benchmarking.
technical chronicles (light travel and hiking, wildlife – survival, etc.).
thematic files and reflections on the trip combining testimonials and practical advice.
briefs and news about the world of adventure travel
presentations of books and DVDs.
The best offs of the outdoor magazine
Among the special editions of Carnets d'aventures, here are some nuggets to have with you:
A Sabbatical Year to travel around the world
Traveling by bike Volume 1, 2 and 3
David Manise: Wildlife – Survival Volume 1 and 2
The ecological trip
Paper magazine but not only….
Website Expemag.com is much more than just a magazine showcase. Thanks to hundreds of extremely useful technical articles for preparing a nature trip, it attracts between 2,500 unique visitors daily. In addition, the Expemag forums are essential and reference places for discussion on the French-speaking web for travel on foot, by bike and by kayak in particular.
The Carnets d'aventures magazine team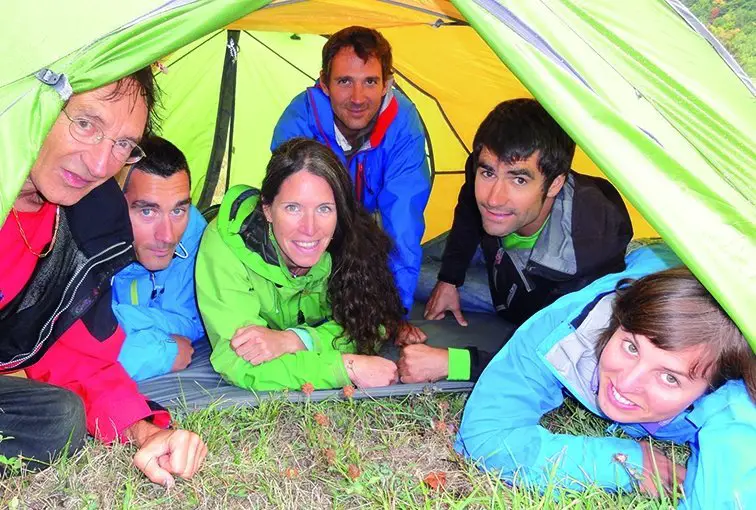 Carnets d'Aventures is produced by a small team independent of any press group. Made up of travel and nature sports enthusiasts. Some of them were engineers in a previous more conventional professional life. Today, they use their scientific rigor to very regularly carry out technical equipment tests that are both very thorough and completely independent of the manufacturers.
Where to buy Adventure books?
In all kiosks and press offices in travel department or sport near you, or in stations.
Otherwise subscribe.
How do I order or subscribe to the Carnets d'aventures magazine?
To not miss an issue, the easiest way is to subscribe to all 12 issues and so each month you will receive great adventures in your mailbox. Unless you prefer the PDF version. Or both versions. The outdoor magazine to think of everything:
And if you missed a number or receive a special issue or special issue, just follow the link in the online store for adventure books.
Partner of Experience Outdoor

Since 2014, the magazine carnet d'aventures has been publishing its favorite of our game Tell your Outdoor Experience by selecting the most ecological outdoor story.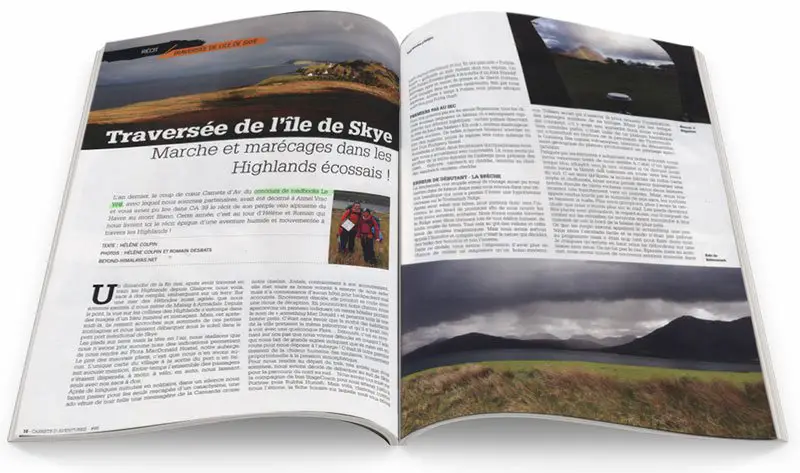 Committed to the preservation of our playgrounds
In addition to promoting trips without motorization, the magazine Carnets d'aventures, like us, is very sensitive to the protection of our planet and is part of the 1% for the planet program.

OudoorGo Magazine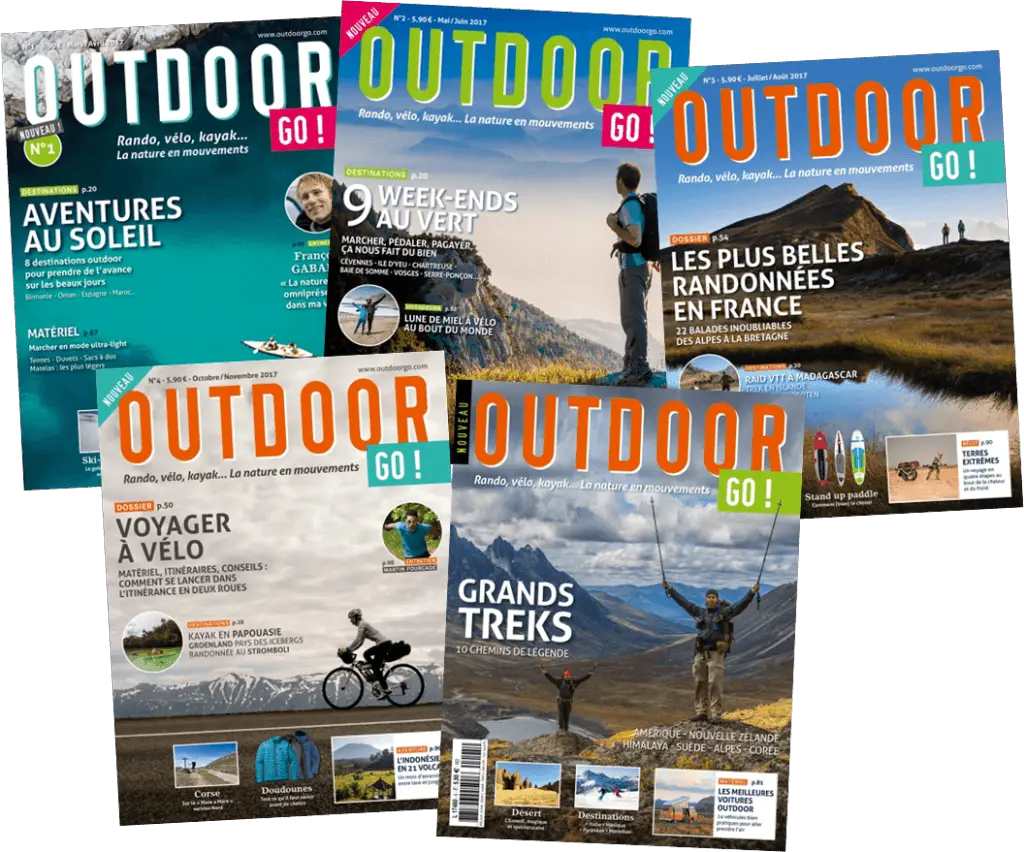 Get (back) into "Nature" mode with OutdoorGo magazine!
OutdoorGo! the magazine of outdoor activities
With five issues per year, OutdoorGo! wants you to (re)discover nature as it should be: in motion.
OutdoorGo! is aimed as much at regulars of the trails to make them discover new pleasures and new destinations as at novices tempted by these outdoor activities that are walking, cycling, kayaking, running and many other practices.
The team that imagines and produces this magazine wants to encourage you to walk, run, paddle, pedal… in the heart of nature. For them, outdoor activities are the best way to make our life even more exceptional, our encounters more beautiful and our planet more endearing.
This state of mind induces a double pleasure: experiencing (a little) your body to make it better. And rediscover the fabulous beauties of our planet, far from the virtual or stressful worlds of our daily lives. And no need to be a champion: everyone can (and should) embark on a trek, a bike ride or a kayak tour. You just have to want to, to convince yourself that it is possible and to properly calibrate your first experiences.
With each publication, OutdoorGo! offers :
a box of ideas for destinations in France and abroad to browse in "Nature" mode for a weekend, a week or even more
a Health section to help you take care of your body and mind and stay in shape all year round
many tips for choosing the right equipment before leaving, product selections, tips for getting the most out of it
stories of great journeys
portraits and interviews of great outdoor encounters,
a Bib section to get started in these festive events that are races and push back (a little) your physical or mental limits,
but also many photos to make you dream from home before your next outing!


Good reading !
To wait and escape between two numbers, the page Facebook by OutdoorGo! allows you to find beautiful adventure ideas and their photos every day.
Where to find OutdoorGo! In your Le Yéti shop of course, but also in all the good kiosks in France. You can also buy one or more issues online at outdoorgo.com and of course you can also subscribe.
Other outdoor magazines to read
Wider Trail Outdoor
Mountains Magazine
Trek Magazine
MTB magazine
Passion for hiking
Ski Touring Magazine
Canoe-Kayak Magazine