Mathilde shares with us her test of the base layers Revelstoke Performance Wool Warm of the Odlo brand after having tested them on different terrains and for different practices.
Presentation of the Odlo brand
Odlo is a brand born in Norway over 70 years ago. In fact, they are experts in technical textiles since 1946. They continue toinnovate since to allow the creation of technical clothing adapted to any weather conditions and usable in all seasons. For the shaping of its clothes, Odlo relies on its Norwegian heritage and its Swiss expertise.
Odd Roar Junior took over the business in 1979. A few years later, the head office was transferred from Norway to Switzerland in 1986. It was in 1987 that the revolutionary Athletic Clothing System concept was born and posed the bases of the famous principle of the three thicknesses. The first ensures optimal moisture transfer, it consists of underwear. The second regulates the temperature and the third protects against wind and weather.
An innovative brand
Odlo is at the origin of various innovative technologies in sports textiles. Among these, we can highlight the technology to inhibit odors created in 2002 with the "Effect by Odlo" fiber. We also note the "Evolution Greentec" which sees the light of day during the winter of 2012/2013. This is the creation of the first seamless underwear on the market, completely recycled and recyclable. Thus, Odlo has developed an underwear sustainable which meets very high technical characteristics. Finally, we can approach the "Muscle Force", an additional innovation that is making its appearance for winter 2013/2014. This base layer designed for alpine skiing offers targeted muscle support, reducing vibrations and delaying fatigue.
The Odlo brand has developed since its creation, today it offers durable technical clothing for all sports activities: Outdoor, Nordic, Running, Cycling. Very committed, Odlo combines eco-responsibility and quality!
To learn more about this brand, I advise you to read the article on Odlo below:
Introducing Odlo Revelstoke Performance Wool Warm technical clothing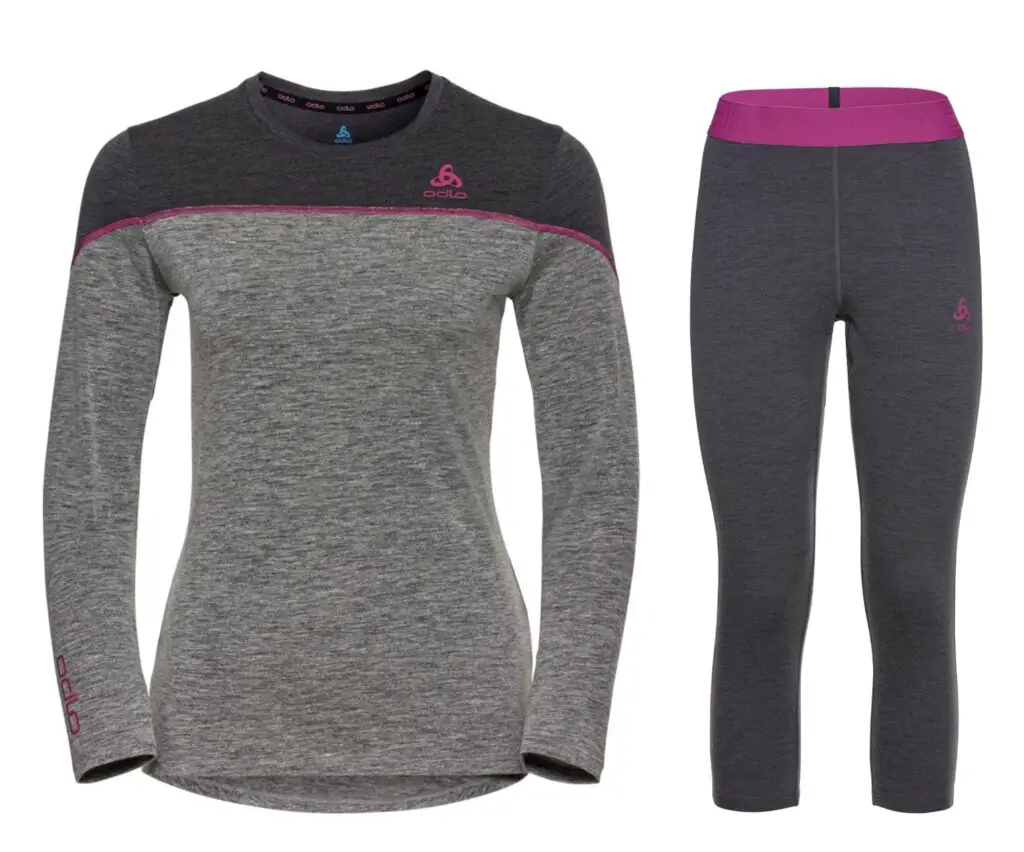 The technical long-sleeved top and three-quarter length tights were created for all mountain lovers. These are the most comfortable merino wool underwear efficient created by Odlo. For these products, the brand has collaborated with Nuyarn, which is a textile manufacturer located in New Zealand and which specializes in technical merino wool materials. Lighter, more resistant and faster drying than pure merino wool yarns, Nuyarn is a natural and high-performance alternative for outdoor activities and daily activities. These Odlo technical underwear can therefore be summed up by the terms lightness, warmth and natural thermal regulation.
They are perfect for different activities outdoors such as skiing / snow or hiking. The Revelstoke Performance Wool Warm base layers are particularly made for high intensity practice.
My personal feedback when receiving Odlo products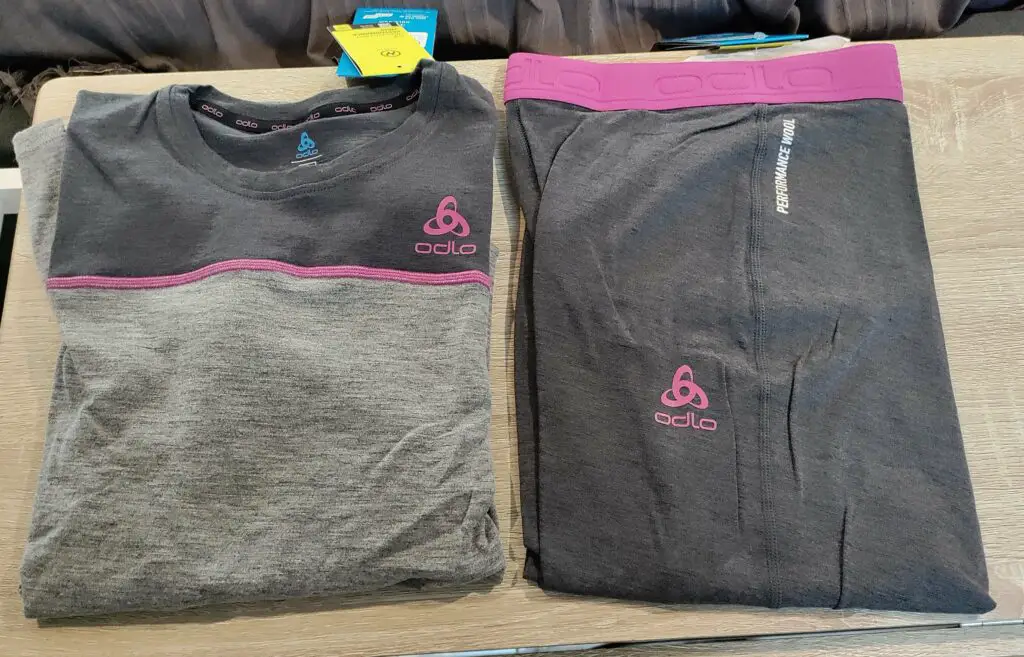 Revelstoke Performance Wool Warm technical underwear is light and aesthetic. The first thing I noticed when receiving these items is the texture of the products. Indeed, these Odlo underwear are soft, the fabric is very pleasant to the touch. During my first try, I had a little tingling sensation. I thought it was going to scratch me and be unpleasant to wear for a long time. Finally, from the second try, this feeling had disappeared. It is therefore an effect given by the fabric.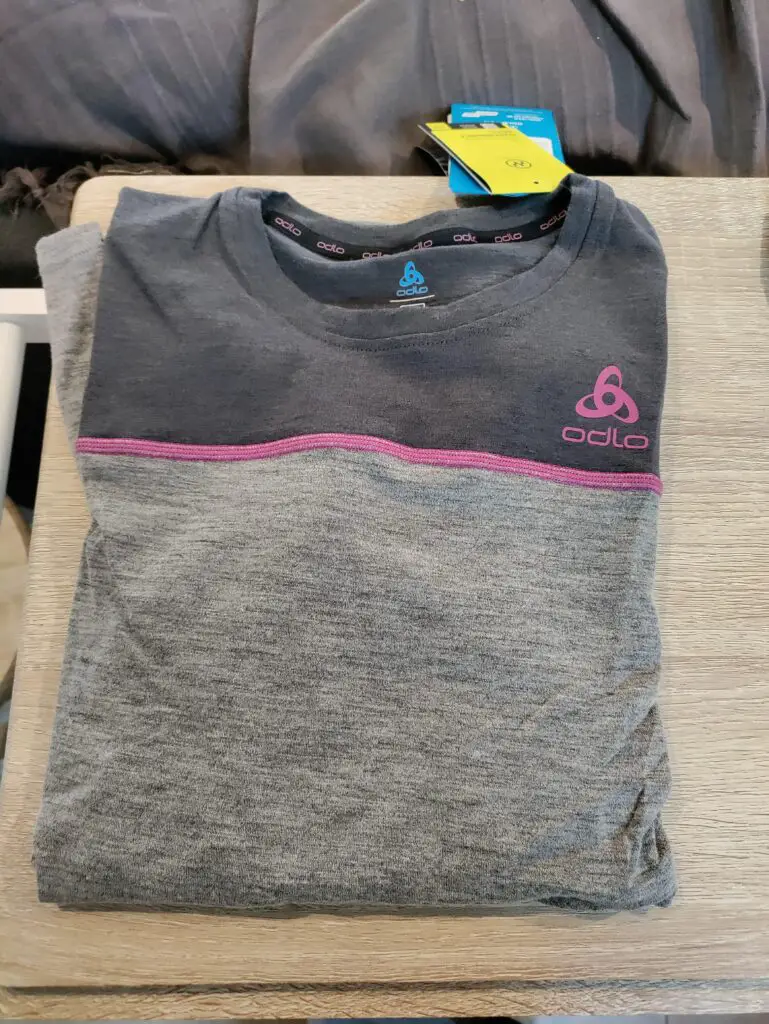 The thinness of these base layers can give the impression that they are not very warm. But, as we will see in my return to the field, it is quite the opposite. They are well suited to different outdoor practices. Aesthetics are also to be taken into account. Compared to some, Revelstoke Performance Wool Warm technical underwear is aesthetically pleasing.
Odlo 3/4 tights
Regarding the technical bottom, I was not sure that the three-quarter side of the tights was adequate. I quickly changed my mind because I find it easier to put on and more comfortable to wear. In addition, when using this undergarment while snowboarding or skiing, the three-quarter side is well suited. Indeed, it is easier to put on the big socks and, therefore, the shoes. We therefore feel less tight in our clothes.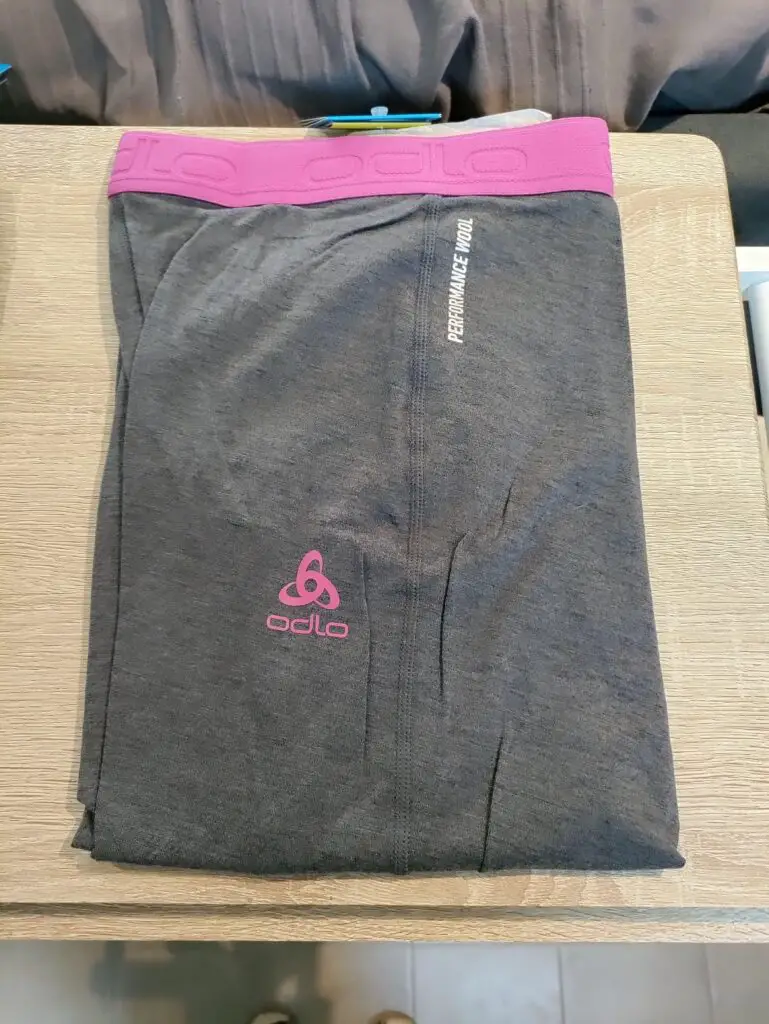 Compared to the size, like all technical underwear, it is a little large. So, if you want them to stick to your skin, I advise you to take a size below what you usually take. For example, I normally wear S rather so I took them in S but in the end the bottom is a bit wide. The XS would have been more suitable. Pay attention to this detail when making your choice.
Technical characteristics of ODLO base layers
Quick drying
Natural thermal regulation
Optimal moisture wicking
A versatile product
A "fitted" cut made to fit close to the body
Nuyarn technology: weaving of merino wool without torsion, allowing the natural performance of this wool to be released
Composition of base layers
78% merino virgin wool
22% nylon
Field test of the Odlo technical package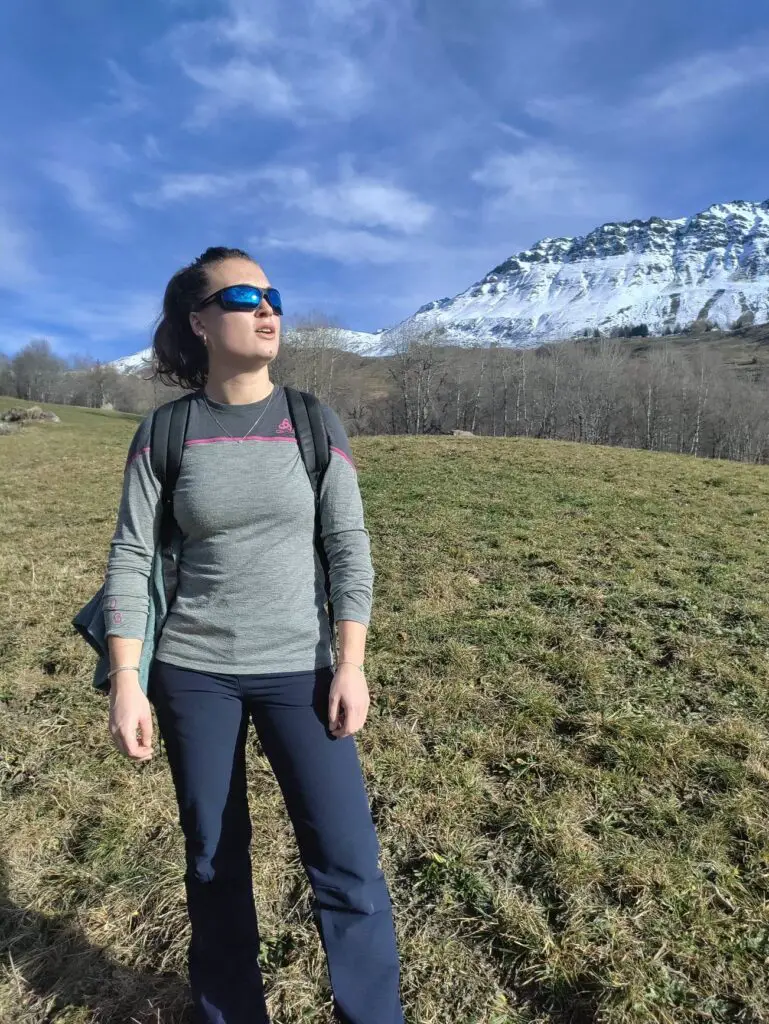 I was able to test the Odlo Revelstoke Performance Wool Warm garments in different outdoor conditions and activities:
Odlo underwear tested in hiking and snowshoeing
Given the temperatures in December and early January, I first used ODLO underwear for classic hiking. I was able to test these base layers on different hikes, more or less long and intense. I have not been disappointed !
Indeed, the first observation that can be made is the comfort provided by these technical underwear. They are very comfortable to wear, light and thin. Yet they respond perfectly to the various conditions in which I have used them. The regulation is great and above all, the second very important observation is the fact that there is no smell! Merino wool does its job well and ODLO has been able to reap the benefits of it. We may make intense efforts, there is no smell of perspiration during and after the effort!
In terms of drying, I never felt wet with these base layers. Although I put in a lot of effort with more advanced hikes, I wasn't bothered by wet underwear. This is a criterion that I find very important, especially for winter use. Indeed, despite the cold we sweat quickly with effort and when we stop we tend to cool down just as quickly. I didn't have this problem with the Revelstoke Performance Wool Warm underwear and it's appreciated!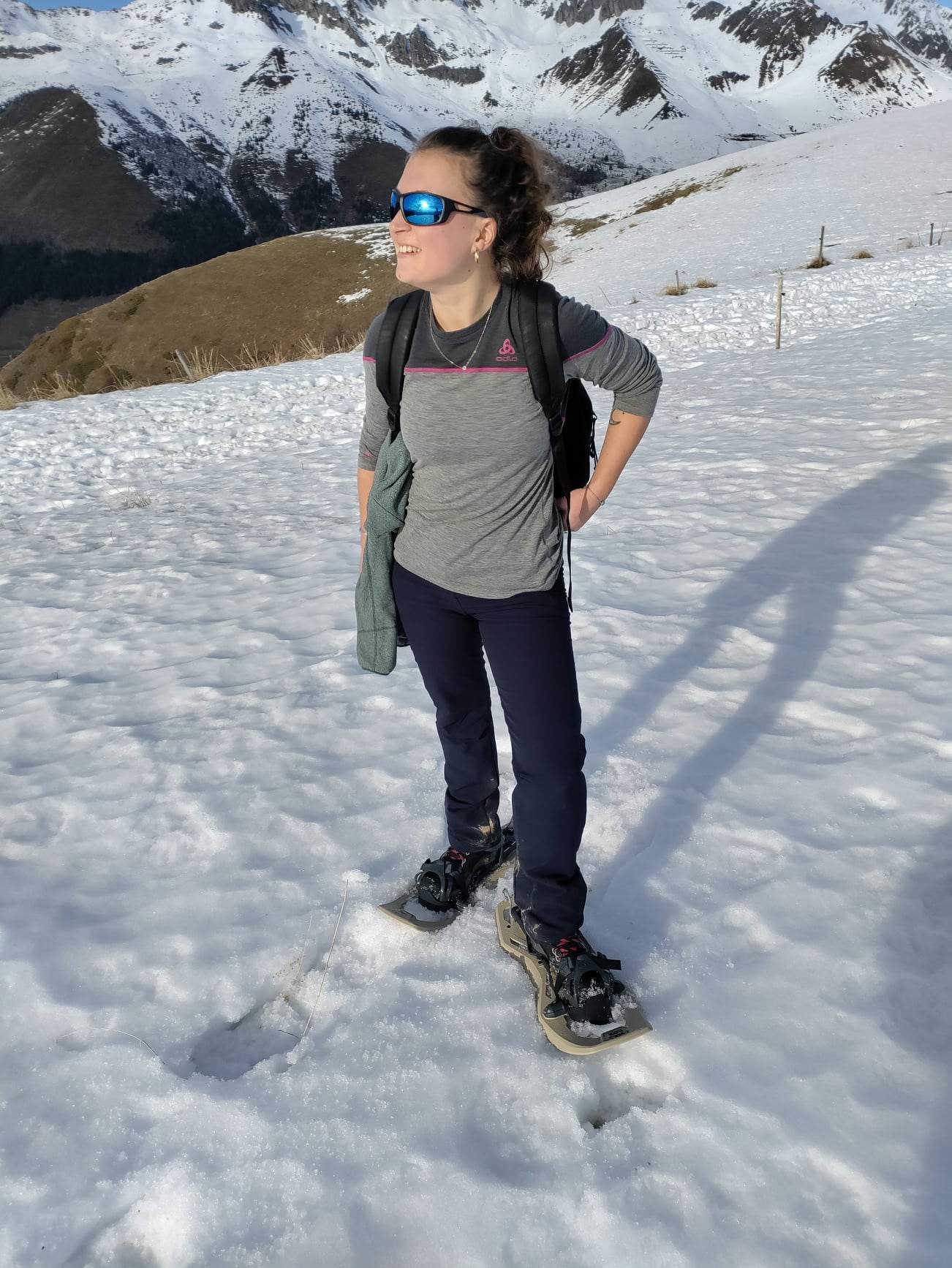 Odlo clothing tested in snowboarding
I was also able to test the technical underwear of the ODLO brand on the slopes on a snowboard! Equally efficient and effective. I was afraid that they wouldn't keep me warm enough, given the thickness of the fabric at first sight, but I had a good surprise. It's the right balance so you don't get too hot or too cold. They are well suited for outdoor sports practice!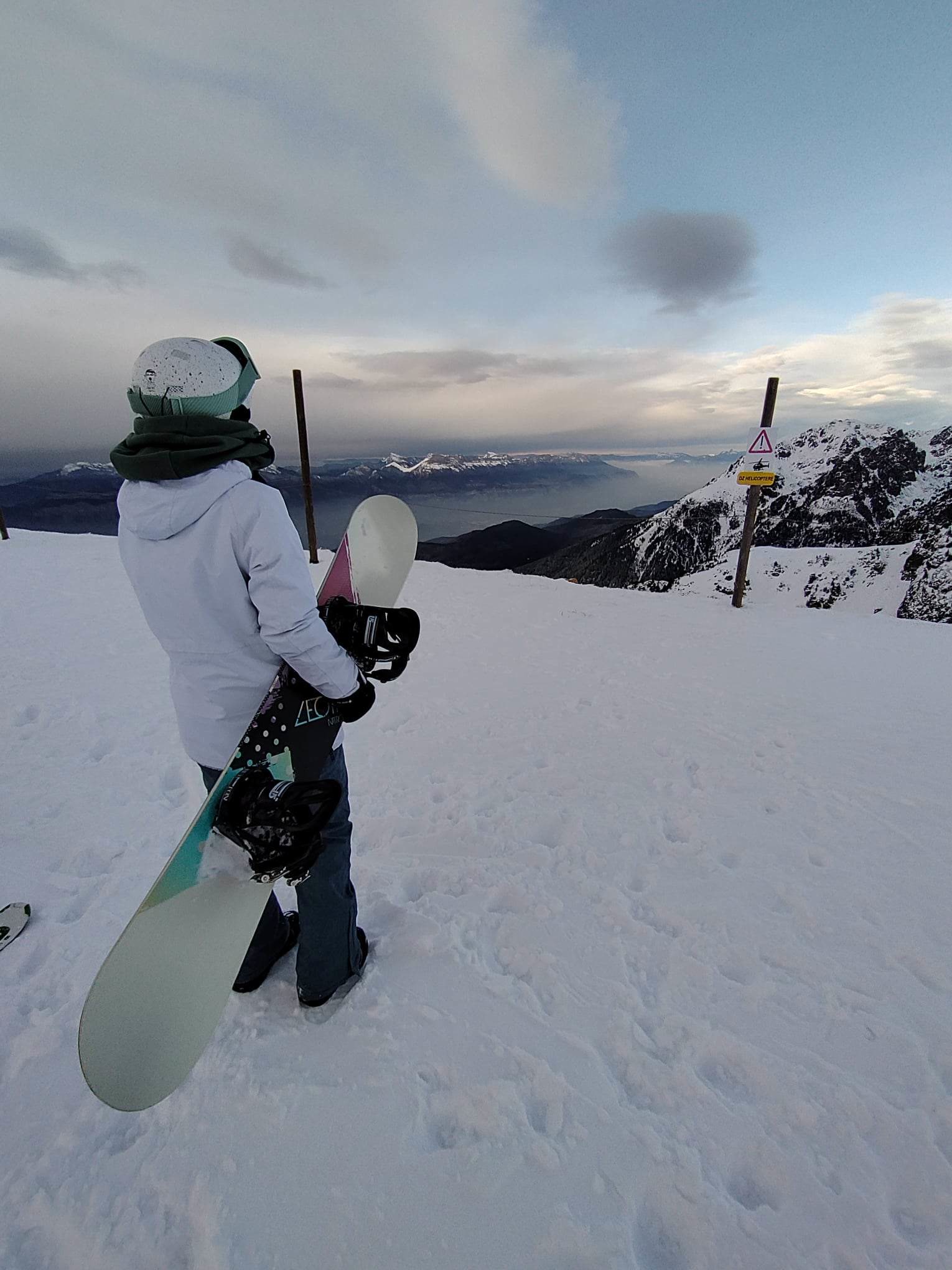 The period over which I tested them is quite long. I received the underwear in November, so I had 3 months to try them out in the field. Practicing various outdoor activities, it was quite easy for me to form an opinion.
If you are looking to learn more about how to equip yourself for outdoor sports such as skiing, the article How to equip yourself well for skiing will answer your questions!
For rest or after sports
ODLO base layers are perfect for getting comfortable at home too! When you want to be a bit in cocooning mode, it's very pleasant. This is also the case after a good hike or even after a sports session… I practice indoor sports but also kayak in white water. So I was able to test these base layers for different practices and at different times, I adopted them!
Indeed, after a good session of kayaking in the river in the middle of January, I really appreciate being able to put on these technical underwear under my pants to warm myself up!
Conclusion on the Test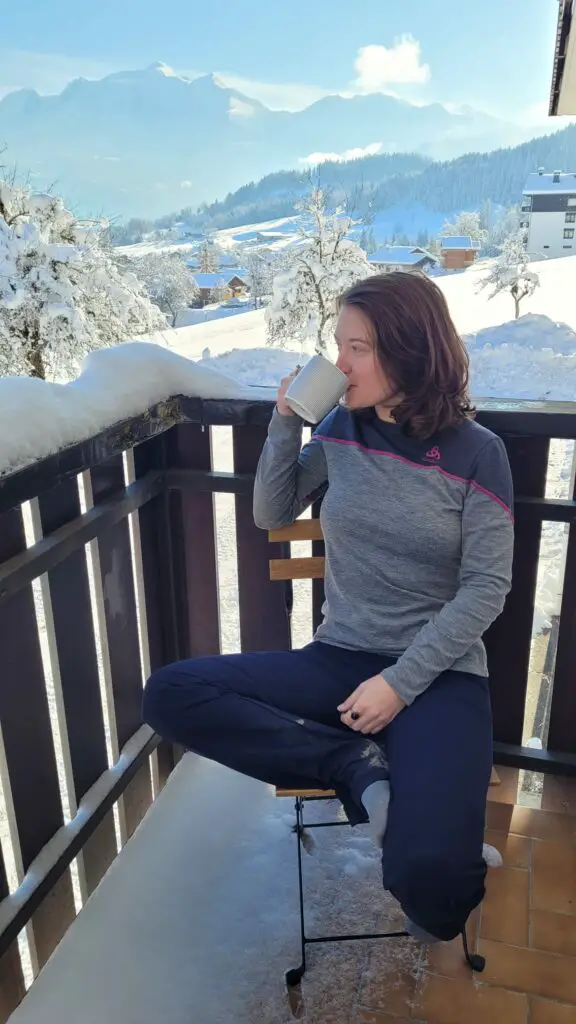 The Revelstoke Performance Wool Warm technical underwear from ODLO is, as we have seen, suitable for different activities. For outdoor sports or cocooning, these base layers provide comfort, warmth and breathability. The plus: you don't feel tight and that's really an advantage for this type of product.
Just be careful when choosing the size, take your measurements if possible and if you hesitate between two sizes I advise you to take the size below.
Revelstoke Performance Wool Warm technical underwear meets the essential needs of athletes. They regulate the temperature, wick away perspiration, dry quickly and do not retain odors! These are key criteria for outdoor practices but also for various sports practiced indoors. Their pleasant side to wear also make these base layers assets for resting at home while remaining comfortable!
Finally, if this is not enough for you to finalize your choice, you can take a look at the article Odlo run easy warm: presentation and test. Thus, you will have a second vision of the brand and what it offers!