When it comes to mountain activities and particularly mountain holidays, the default image that is imprinted in our minds is skiing. This pleasure has no age. Because everyone likes to get carried away on a flat or sloping surface without producing too much effort.
Over the years, however, other activities have been added to those traditionally practiced. In fact, we begin to have a certain embarrassment of choice, as these activities are all more attractive than the others. The French mountains are privileged sites for indulging in these escapades where relaxation consists of the spectacle of landscapes and games that make some people fall back into childhood.
Ski
Skiing remains the flagship mountain activity. And some do not hesitate to invest in equipment and hotel reservations and other travel expenses to have the best possible experience. New materials have appeared, such as those based on carbon fibre. New fabrics have appeared, which better protect against the cold. On this subject, we could not recommend better: stay warm with the Helly Hansen cold weather clothing. The category that is popular is still downhill skiing and the majority of practitioners are recreational skiers. We like to take the ski lift, try a few turns and slide at leisure until exhaustion.
The activities we discover
In recent years, new gadgets have appeared to the delight of snow lovers. Among these, we will start with the segway which is no longer reserved for visiting cities but has also focused on the experience of steep snowy terrain. Its wide tires give it a very entertaining off-road effect. In the same line, the Fat scooter with its huge tires, but also the snow scooter and its handlebar fixed on a board. Adrenaline rush enthusiasts can try the Airboard or inflatable sled which is used to hurtle down the slopes on your stomach. Less hectic than the previous activities, the dog sled ride is an experience that delights young and old alike.
Sports-related activities
Ski touring is particularly popular with sports enthusiasts. Because we go up the slopes with soles where we attach skins to avoid slipping and which we then remove for the descent. Others choose the biathlon which combines cross-country skiing and rifle shooting. More and more sites are opening up the discipline to the general public, some of whom prefer shooting above all else. In a completely different field, paragliding allows the adventurous to glide and enjoy a magical spectacle from above.
The paret or yooner allows you to taste the pleasures filled with nostalgia insofar as it is a toboggan of yesteryear that the ski resorts have brought up to date. Big and small, young and old can hit the ski slopes without knowing how to ski. Stations offer snowshoe walks between the fir trees to recharge your batteries and discover natural places. Some resorts innovate with night hikes to enjoy the sunset, the clarity of the snow and the sounds of the mountain at night.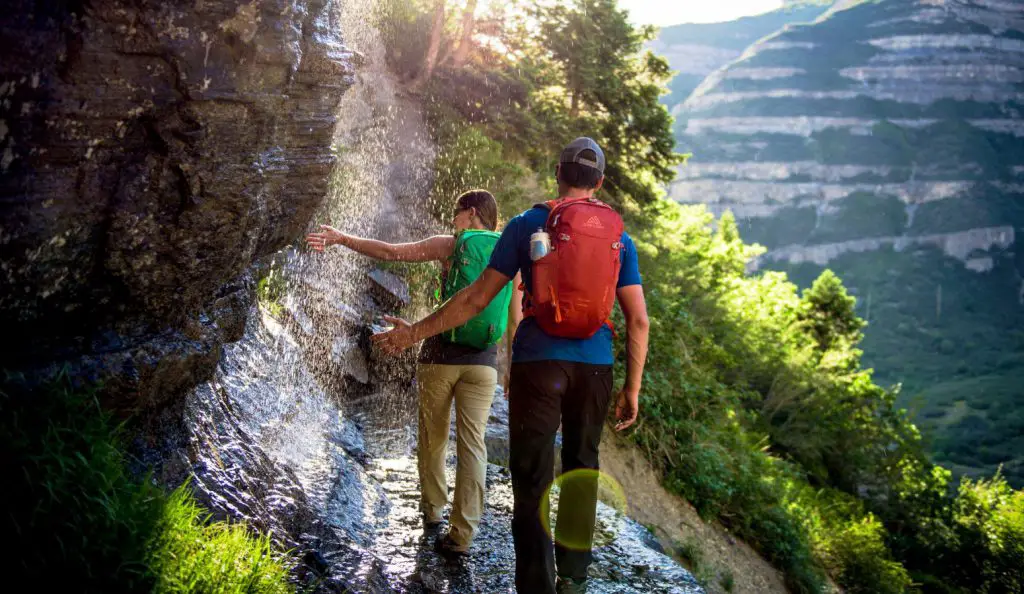 Unusual mountain activities to try
To discover something really new, you can also try your hand at diving in the icy waters. The equipment and safety are up to the expectations of amateurs. We then discover the range of glacial formations whose variation in time and space is a function of temperatures and currents.
You can also try your hand at frisbee golf. You throw a Frisbee which must land in a basket. The games promise to be very entertaining between the competing teams composed of 2 to 8 people.
If you are lucky enough to come across sites where there are hot springs. Then you can also experience hot water baths in the open air. In the Eastern Pyrenees you will frolic in water at over 35°C, rich in fluoride, trace elements and many other substances beneficial to the body.
Invigorating snacks
The pleasures of good food cannot be separated from good times. More than one winter sports site offers small retreats where you can sometimes have a traditional dinner or a local recipe after a planned route.
What equipment for your mountain activities?
The mountain offers many activities in winter and summer. And to make the most of it, we offer you check lists by activity so that you don't forget anything before leaving: