Nathalie B LAURENT, travel and outdoor writer and trainer in the tourism sector, particularly in its sporting dimension, shares her test and opinion of the Helly Hansen Verglas Hooded Down Insulator down jacket.
The tests took place over several months, with daily use in France, varied climatic conditions and diversified outdoor activities.
Introducing the Helly Hansen brand
Helly Hansen is a Norwegian brand created in 1877 in Moss by Helly Juell Hansen. Since its creation, it has specialized in the manufacture and marketing of waterproof clothing and accessories. It is now 145 years sinceHelly Hansen continues to delight professionals on all fronts thanks to its products. The company has always stood out for its many innovations. From linseed oilcloth garments, she moved on to innovative technologies such as Helly Tech, Lifaloft, H2Flow, Lifa, Lifa Infinity Pro™ and Sustainability.
Helly Hansen now markets a wide range of outfits capable of defying extreme weather conditions (rain, heat, cold, etc.). Its equipment also protects against flames, drowning, low visibility, etc.
These include, among others:
caps;
pants, shorts;
underwear;
gloves ;
accessories ;
shoes ;
sweatshirts, jackets, coats, vests, etc. ;
These products are made with quality materials, durable, ecological and have an excellent quality/price ratio. They are aimed at all consumers, regardless of gender, age and profession.
Moreover, the HH brand has established itself today as a world leader in the market for outdoor and nautical activity clothing. In addition, it enjoys a solid reputation among sailors. It perfectly combines design and style with protection against all types of conditions for the happiness of its customers.
Introducing the Verglas Hooded Down Insulator Helly Hansen Down Jacket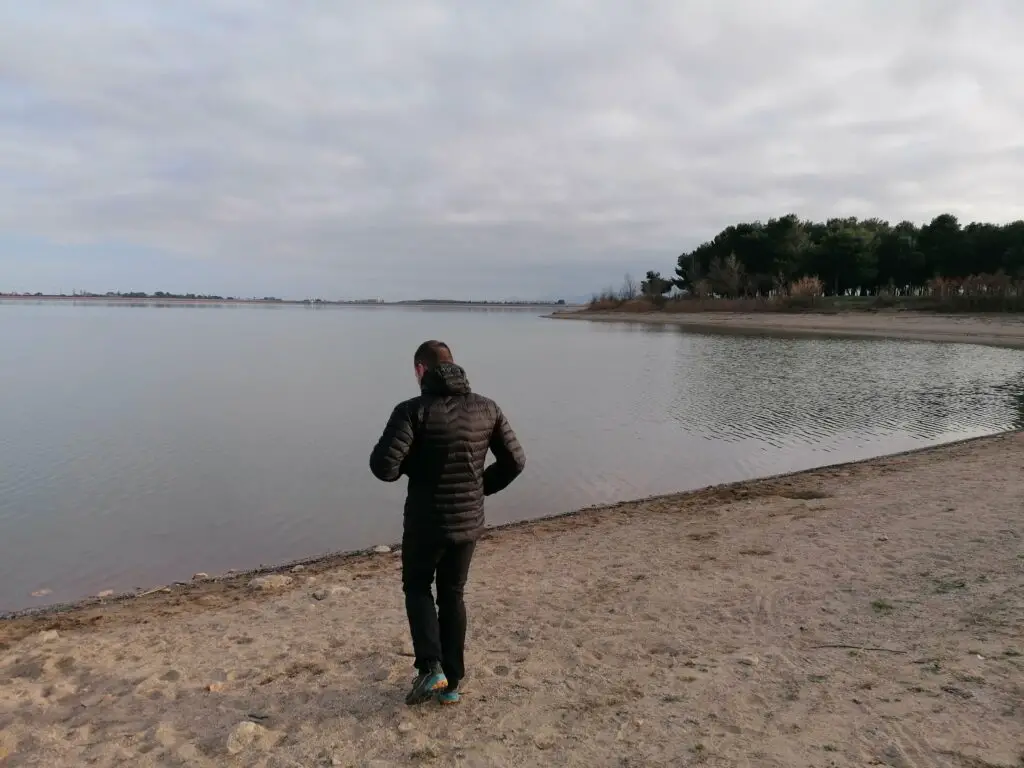 This lightweight insulated jacket is the essential piece to take on all your adventures.
The Verglas Hooded Down Insulator jacket is a versatile model that can be worn alone or under a thin technical gore-tex jacket. Its versatility also allows it to be used in any season thanks to its light fabric and its exceptional thermal power of goose down. The details are neat: inside chest pocket, windproof tabs and an elasticated waist to guarantee optimal comfort. It should also be noted that the jacket is made in an eco-responsible way with a PFC-free DWR treatment and according to a bluesign® certified manufacturing process.
Description of the Down Hooded Helly Hansen Down Jacket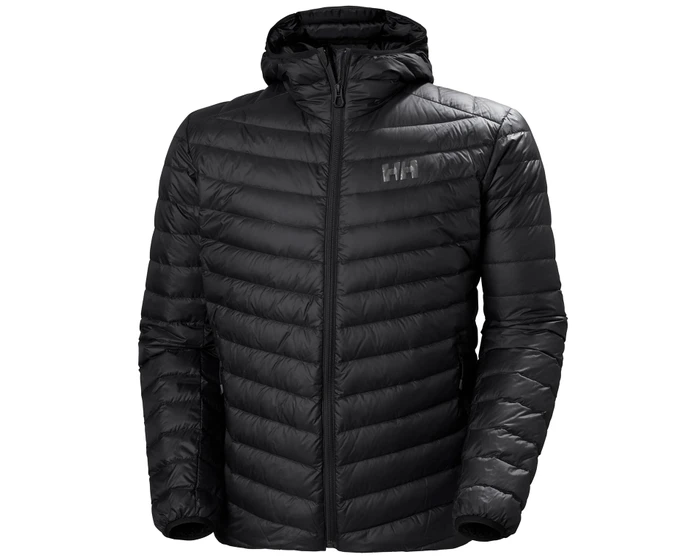 The Helly Hansen jacket tested is a Verglas Hooded insulated down jacket from the Helly Hansen brand. It exists in female and male version, from size xs to xl
Features of the Helly Hansen Down Jacket
PrimaLoft® SILVER
C6 DWR
YKK® zippers
Two front pockets
Adjustable leg bottoms
bluesign® Product
PFC-free
Composition of the HH down jacket:
Outer fabric: 100% polyamide.
Lining: 100% polyamide.
Insulation: 85% goose down, 15% goose feather
Verglas Hooded Down Insulator Helly Hansen Down Jacket Test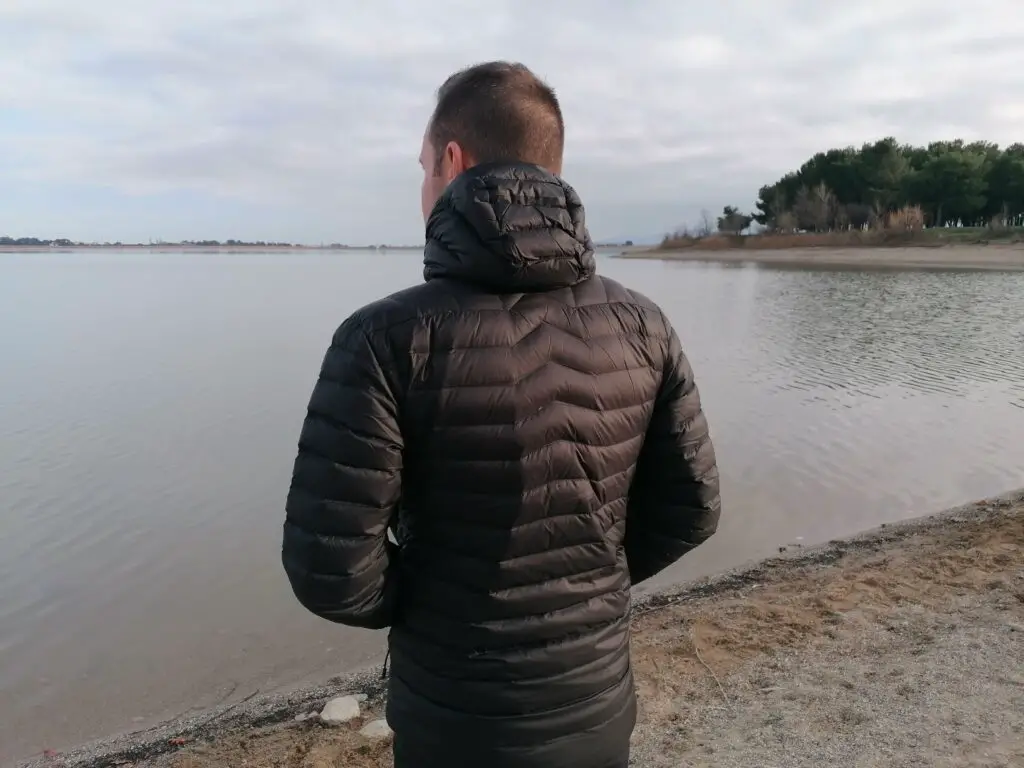 In the range of insulation jackets designed by Helly Hansen, the Verglas Hooded Down Insulator is indicated for dynamic activities: hiking, mountaineering, skiing. Why? Because it is light and insulating, with interesting thermal properties thanks to its goose down composition. Indeed, its hood and its details reinforce its strategic place in the panoply of the modern-day adventurer, in search of versatility.
It is interesting to wonder about the use of the down jacket before buying it. But do you know the criteria to determine when choosing your down jacket?
Its aesthetics also allow it to be worn in urban terrain for everyday life, with a pleasant cut, rather close to the body. Finally, its flexibility makes it comfortable, and it will thus be able to be forgotten in order to be able to concentrate on the essential: outdoor practice.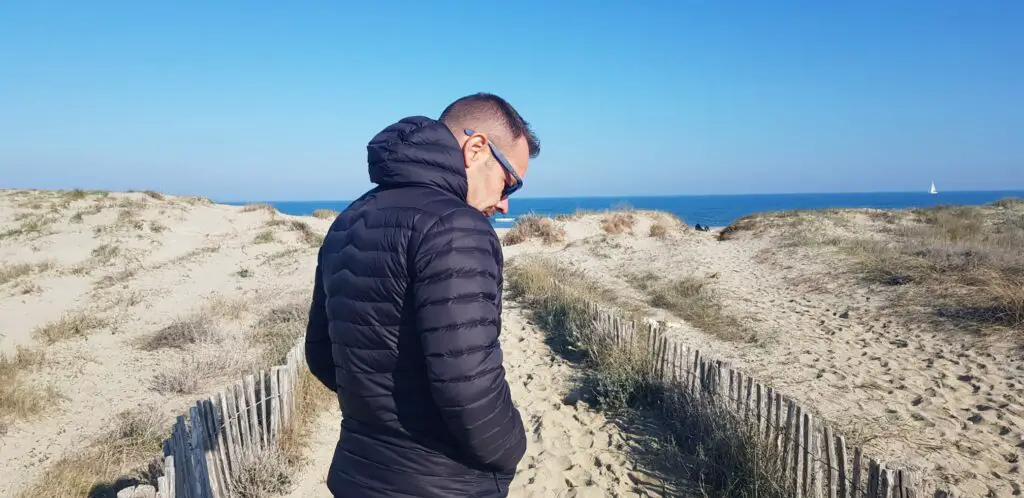 The tests carried out are diverse: urban use, hiking, cycling or even a Sunday stroll. The number 1 asset of this jacket is clearly its versatility! It is not too hot, and seems interesting for many outdoor activities, not tested to date, due to (too) mild temperatures. I am thinking in particular of skiing or snowshoeing.
To date, daily use highlights the strengths of this down jacket:
practicality
flexibility and comfort (pleasant fit)
static and dynamic heat
cold protection
My opinion on the Helly Hansen Verglas Hooded down jacket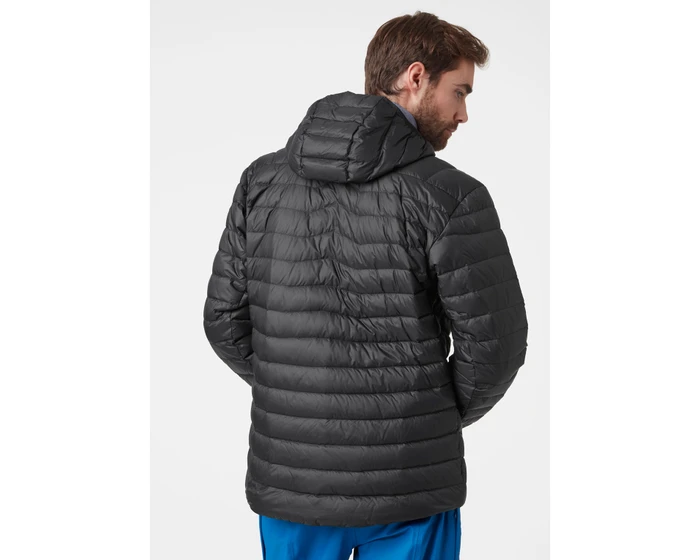 Several criteria are reviewed to ensure a constructive and complete opinion. Among these criteria: aesthetics, comfort and insulation, resistance and finally breathability.
aesthetics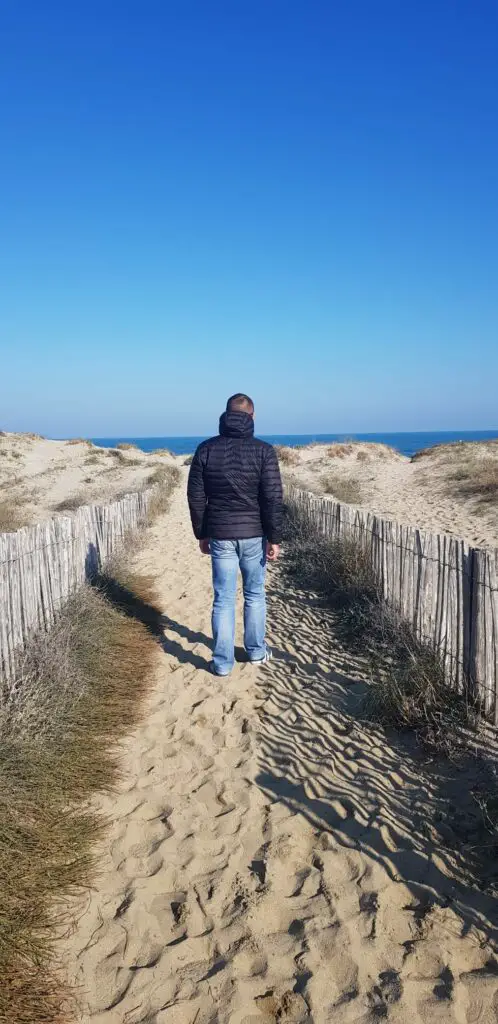 The cut is impeccable: relatively close to the body but wide enough to be able to wear a fleece without being hampered in movement. Indeed, it has this cocooning aspect that one expects from a down jacket: flexibility, lightness and warmth.
The slightly longer back panel allows you to hike, pedal or even ski without the unpleasant feeling of cold that would creep in underneath. It's a real detail that is important, in both urban and outdoor use.
The other elements are very practical: a wraparound hood, two zipped front pockets, cords to adjust the size and an inside pocket (also zipped).
Last point on the color tested: the black version offers a sober appearance to wear it in all circumstances.
comfort and insulation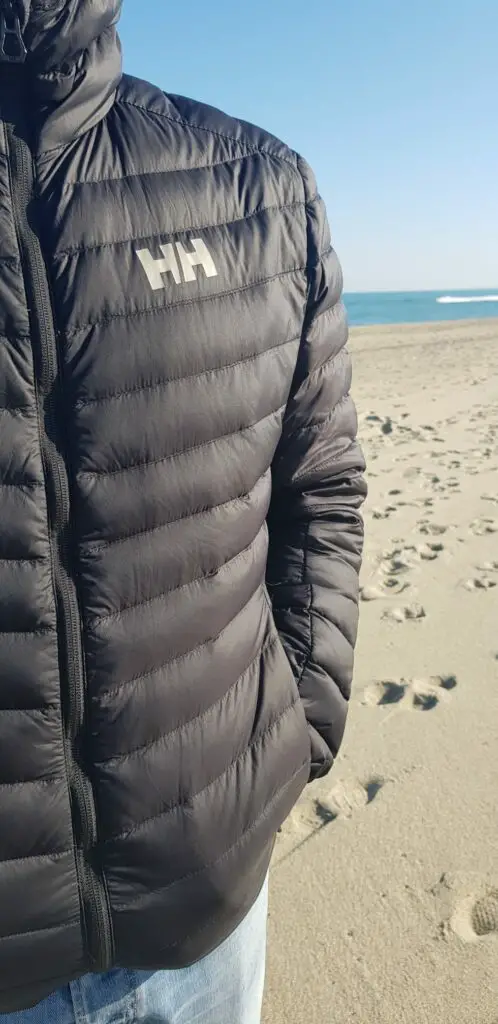 It should be noted that although light, the Verglas Hooded down jacket is not one of the most compact in the range. It is an excellent compromise for those wishing to combine versatility and quality.
The jacket is in an intermediate category: neither ultra thin nor designed for extreme cold. Indeed, the insulation is made of 85% goose down and 15% goose feather and is effective. However, the jacket is not designed for bivouac use in cold weather. It is more intended for dynamic use, thanks to solid advantages of practicality. To name but a few: generously sized zips, zipped pockets, enveloping hood. Concerning me, however, I will note a downside regarding the elastic bands of the wrists which are not very tight. This can be useful when the temperatures are mild, but it is a point of attention if the temperatures are negative.
The drawstrings at the waist are effective and do not interfere with movement, which is an undeniable asset. During use, it is comfortable, and brings its cocoon of warmth immediately. It remains, in my opinion, slightly unsuited to the wind, and does not offer a sufficient bulwark to face numerous gusts in cold weather if it is used as a single layer.
Finally, the down jacket is also water-repellent, PFC-free for the DWR treatment, and also Bluesign® certified.
Resistance and breathability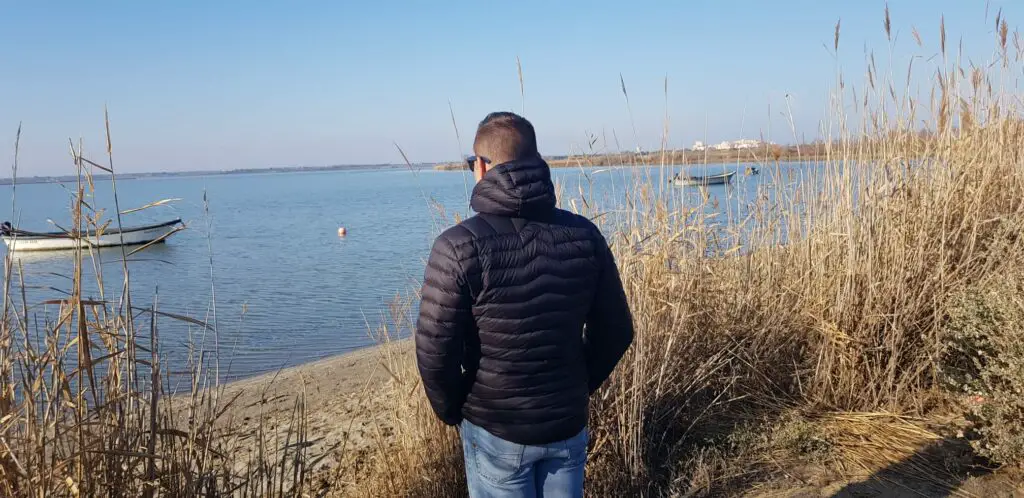 The jacket is resistant to movements made during outdoor activities, however, like any down jacket, it remains fragile in the face of abrasions and is still likely to tear easily.
It therefore requires care, especially in its maintenance, to preserve all its thermal properties and its aesthetic appearance.
I advise you to read this article on the maintenance of a down jacket, which can enlighten you on this subject.
However, despite daily use, the brand surprises with its robustness. A light brushing and the down jacket immediately regains its initial appearance, even after several hours compressed in a backpack.
Breathability is an important criterion, and yet I did not imagine it compatible with a down jacket. The tests convinced me! Despite sometimes intense efforts, no uncomfortable feeling of humidity.
Conclusion of the Helly Hansen down jacket test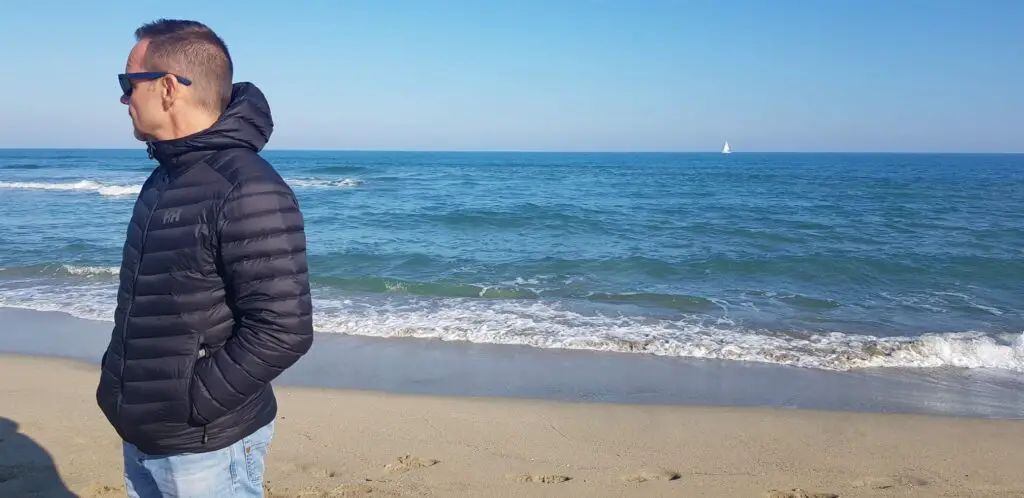 Whether you are a fan of skiing, hiking or other outdoor activities, here is a down jacket that will satisfy you thanks to its versatility. It is efficient, provides warmth and comfort and offers many well-thought-out details for more practicality. Its cut is particularly successful and it will seduce for its multiple uses.
It is a jacket with interesting thermal properties, which is a pretty promise to face winter temperatures. Its two axes of improvement could however be the drawstrings at the wrists and its price which does not make it accessible to all. I think it's an excellent jacket, which fulfills its function perfectly, and brings its cocoon of warmth immediately, statically and dynamically.