Thomas Seramour shares with us his return on the down jacket Haglöfs ROC Mimic Hood Men after using it for 3 months in the fall and winter seasons.
Introducing the HAGLÖFS brand
Haglöfs is a Scandinavian brand born in Sweden in 1914 by Wiktor Haglöfs. The latter initially wished develop backpacks for rangers. Then, little by little, Wiktor Haglöfs developed technical materials to compensate for the difficult weather conditions in Sweden. Thus, the Haglöfs brand was born and began to produce outdoor equipment for hiking, mountaineering, downhill skiing, ski touring and trekking. Textiles have also become his specialty, followed closely by his backpacks and then these various accessories and shoes.
Today the Haglöfs brand has developed internationally and it equips many expeditions in high mountains. The brand now offers a wide choice of textiles to compensate for different climatic conditions with important technical characteristics. Indeed, Haglöfs is working on sustainable productslightweight, waterproof and windproof while offering a sleek design.
Finally, the Haglöfs brand is committed toyears the reduction of its environmental impact. And the brand promotes also good working conditions for these employees. With his label Take Carethe brand offers sustainable and environmentally friendly products from by using organic cotton or recycled materials. And finally, Haglöfs created the foundation Fair Wear Foundation which is intended to control working conditions within these manufacturing plants in the textile sector.
To learn more about the Haglöfs brand, I invite you to read the article below.
Introducing the Haglöfs ROC Mimic Hood Men Down Jacket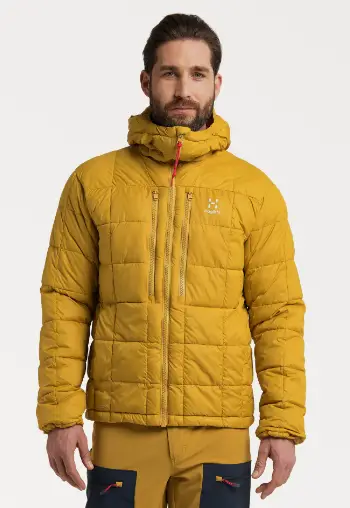 The Haglöfs ROC Mimic Hood Men down jacket is a synthetic down jacket for men. She also exists for women under the name ROC Mimic Hood Women. She was created for outdoor activities such as mountaineering or hiking. It is a down jacket in synthetic insulation filled with Mimic Platinum supplemented with graphene. These are integrated into a light and adjustable barrier, perfect for different mountain activities.
Outer fabric is wind and water resistant since it's treated with a fluorocarbon-free DWR to repel water and dirt. Finally, the down jacket includes several adjustment systems. And finally, it also includes many pockets very convenient. Notably a specific cell phone pocket which insulates from the cold. The Haglöfs ROC Mimic Hood down jacket is sold at the price of 280€.
The down jacket in detail:
Mimic Platinum padding for extreme warmth and excellent performance, even when wet
30D Pertex® outer fabric, DWR treated for excellent weather protection
Adjustable hood for more comfort and better insulation
Insulated placket behind the front zip to avoid cold spots
Two zippered hand pockets
Two zipped chest pockets for accessories
An insulated mobile pocket called "Airgel"
Brushed chin bar for less friction and more comfort
Elastic sleeve and cord at the waist for better insulation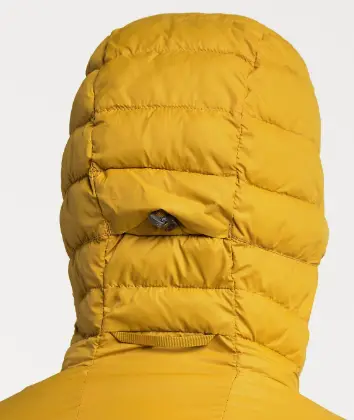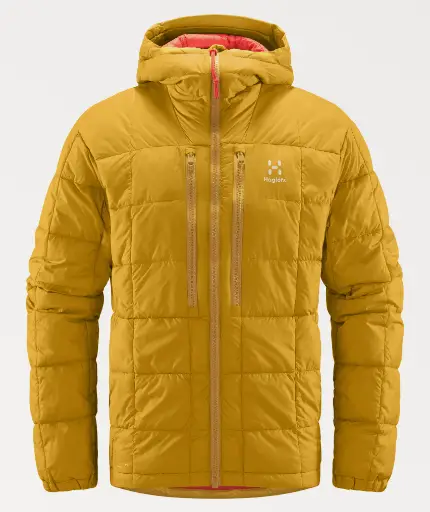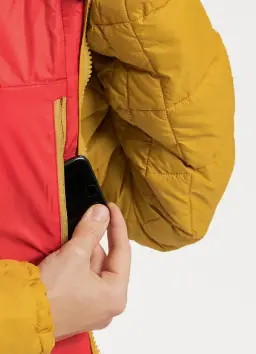 Features
Weight : 450g in size M
Size available: S/M/L/XL/XXL
Outer fabric: Pertex® Quantum, 100% recycled polyamide, 30D fiber resistant, ripstop fabric, 53g/m²
Filling: Mimic PLATINUM Ultracluster Graphene and recycled polyester, synthetic fiber cluster insulation (filling weight: 177g in size L)
Practice intended: mountaineering, hiking
If you have not understood all the features of the down jacket, I invite you to read the article below. It will help you decide on the choice of your next down jacket.
My field experience with the Haglöfs ROC Mimic Hood Men down jacket
Haglöfs down jacket field test conditions
Date : from October 2022 to January 2023
Places : Mainly in the mountains, between 1000 and 2000m above sea level. In the massifs of Mont-Blanc, Chartreuse, Belledonne. But also in town, occasionally.
Activities : Ski touring, hiking, bivouac and lifestyle.
Usage temperatures: from -10°C to around 10°C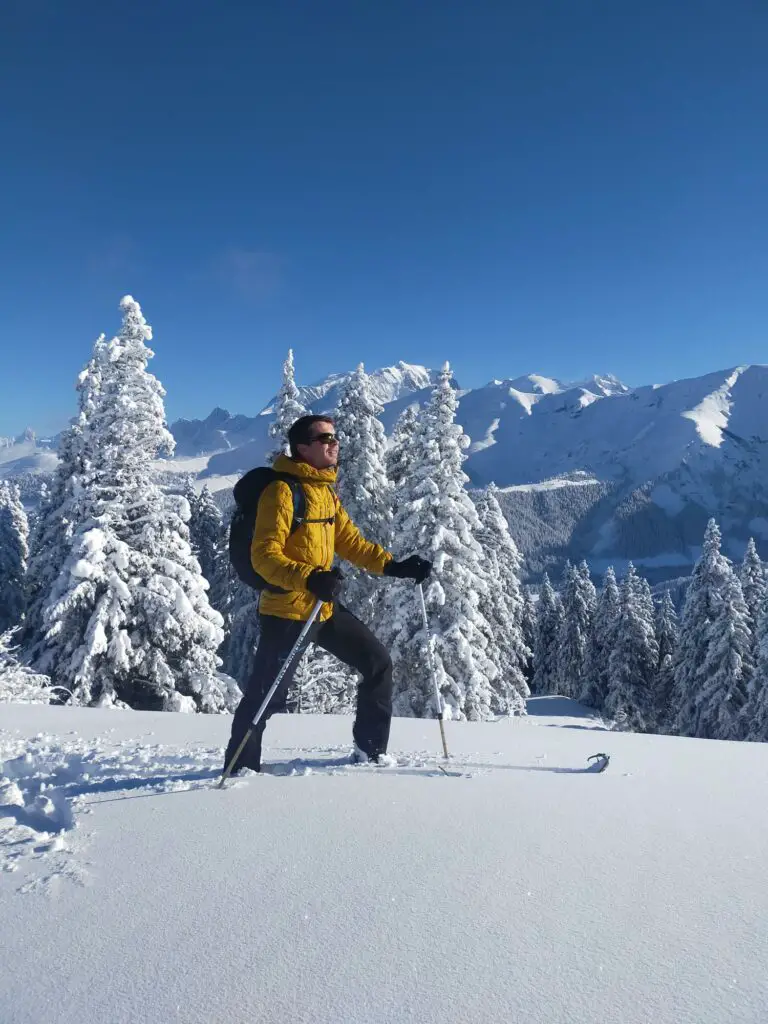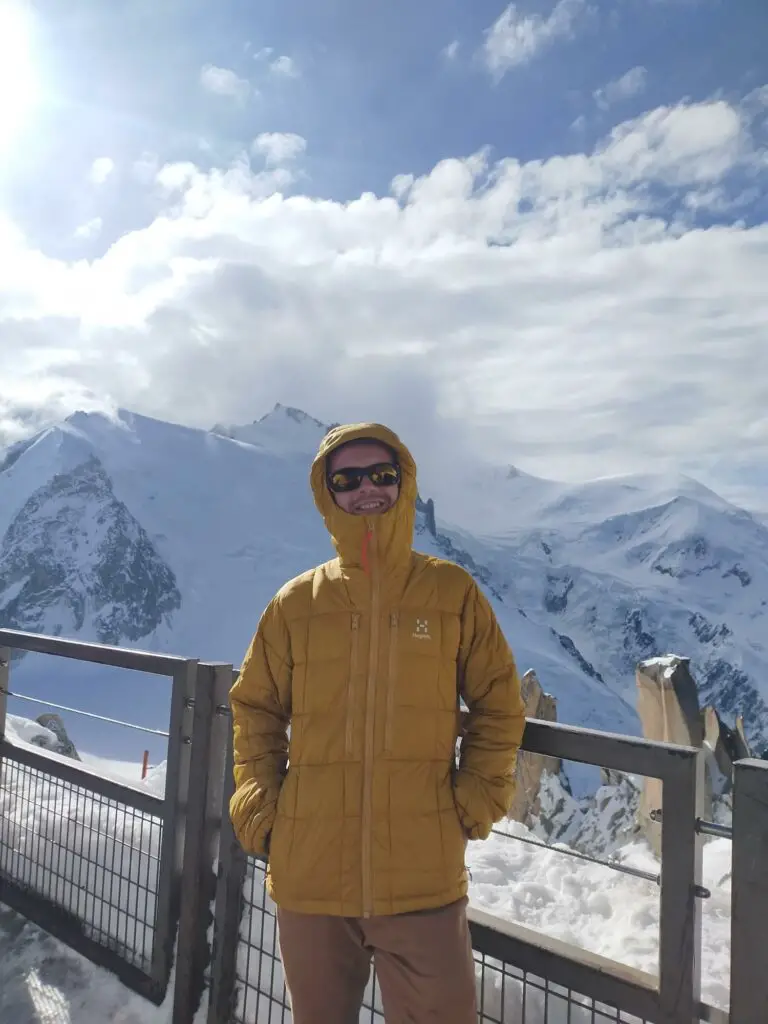 My first impressions
A pretty down jacket in a very nice color, which seems very practical. With a filling made of partly recycled material that scores points. However, the filling does not seem very important. As for the weight, the Haglöfs ROC Mimic Hood Men's down jacket weighs 500g in size M. It's time to see what it's worth on the pitch!
Comfortable and practical!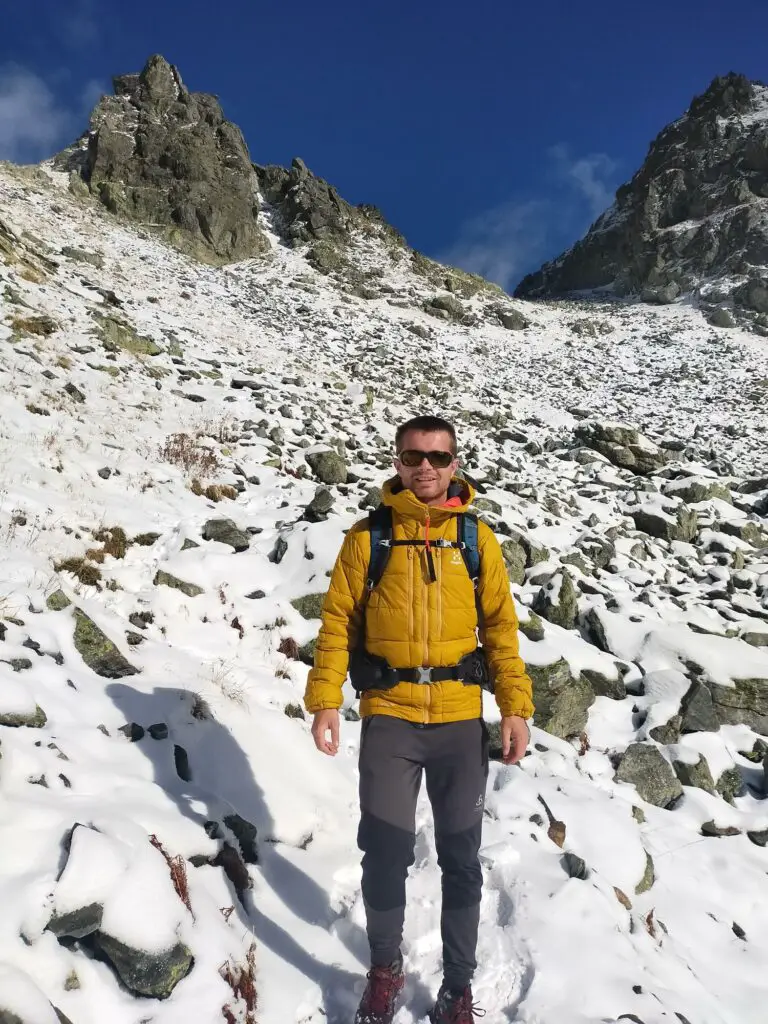 On these two points, the down jacket is really great! On the one hand, it is comfortable because of its various possible adjustments. I am obviously talking about the adjustment cords arranged at the level of the waist and the hood. But also its regular cut and its elastic sleeves. And on the other side, it is really practical with its many pockets. I particularly appreciate the pocket dedicated to the smartphone so that it is not exposed to frost, it works quite well. I'm just a little disappointed that the down jacket comes without a carry bag.
Warmth and solidity
The technical characteristics that I presented to you earlier in the article seemed very good to me at first sight. But I am sadly disappointed with the field test. Indeed, the down jacket is not as warm as expected in view of the recommended uses. The down jacket is suitable for conditions of approximately 5°C comfort in static and -5°C comfort in activity. Besides, I noticed that the padding of the down jacket was already very heterogeneous. It's as if the synthetic down jacket had the disadvantage of feather filling that has lived well.
However, the fabric of the down jacket cuts the wind well. But the down jacket does not resist water very well as indicated above. During my stay in Ardèche on the side of Mont Mézenc, I had to finish a hike in a light rain for about 10-15 minutes and the sleeve was already very wet. What I did not feel with other water-repellent down jackets.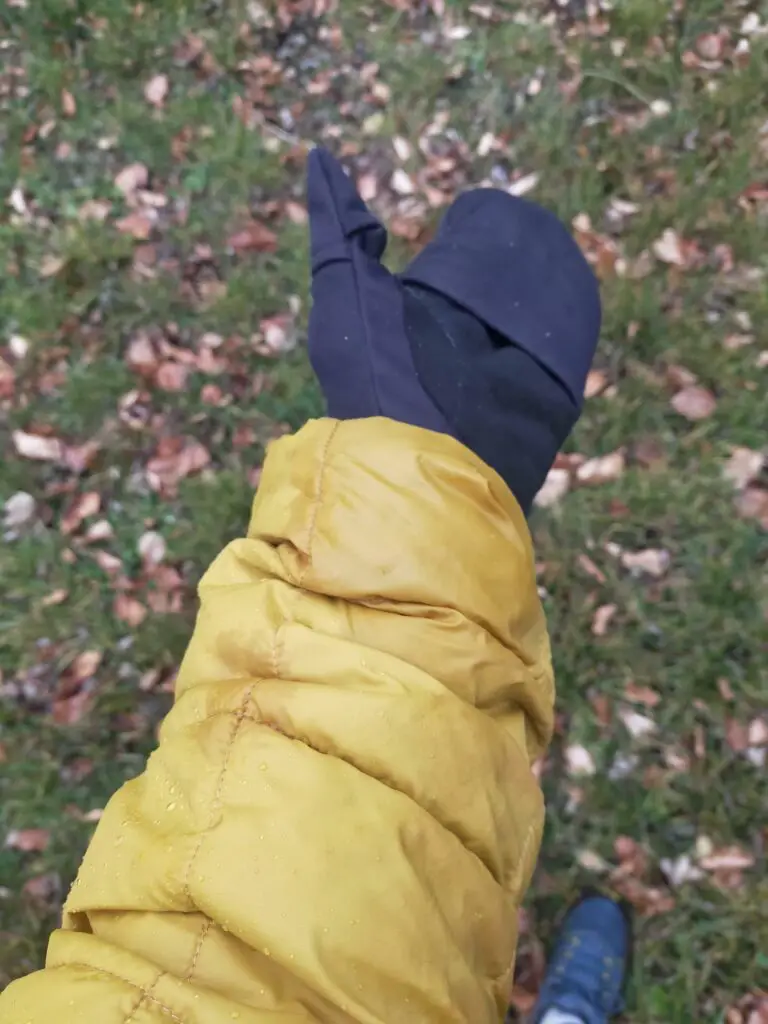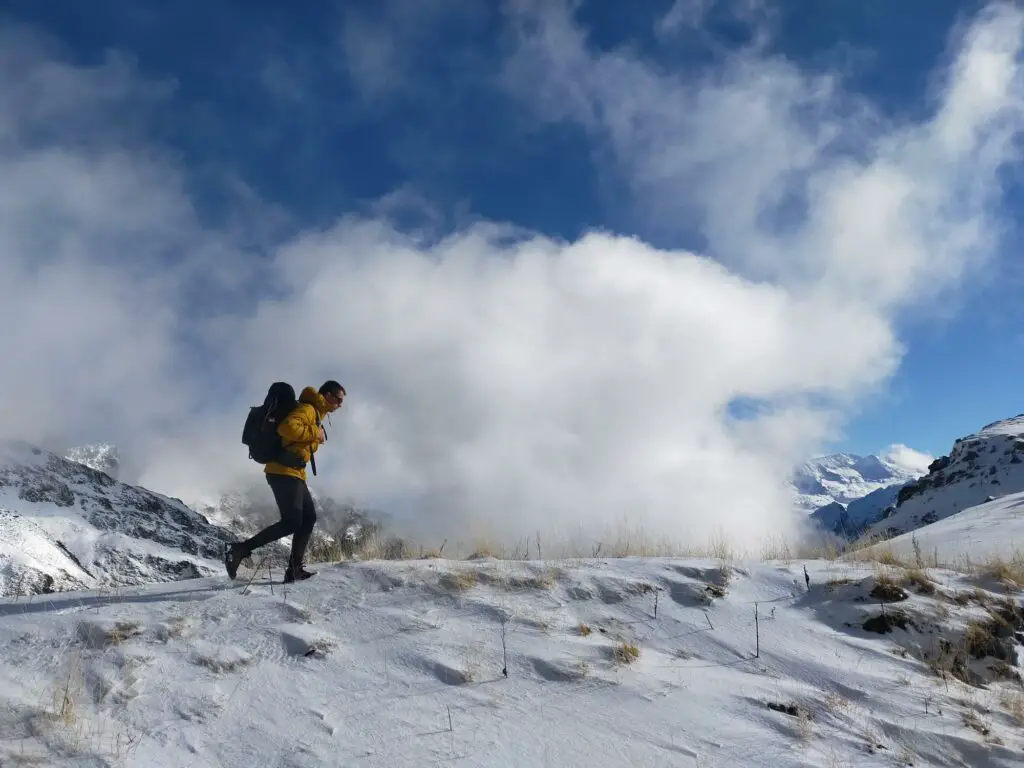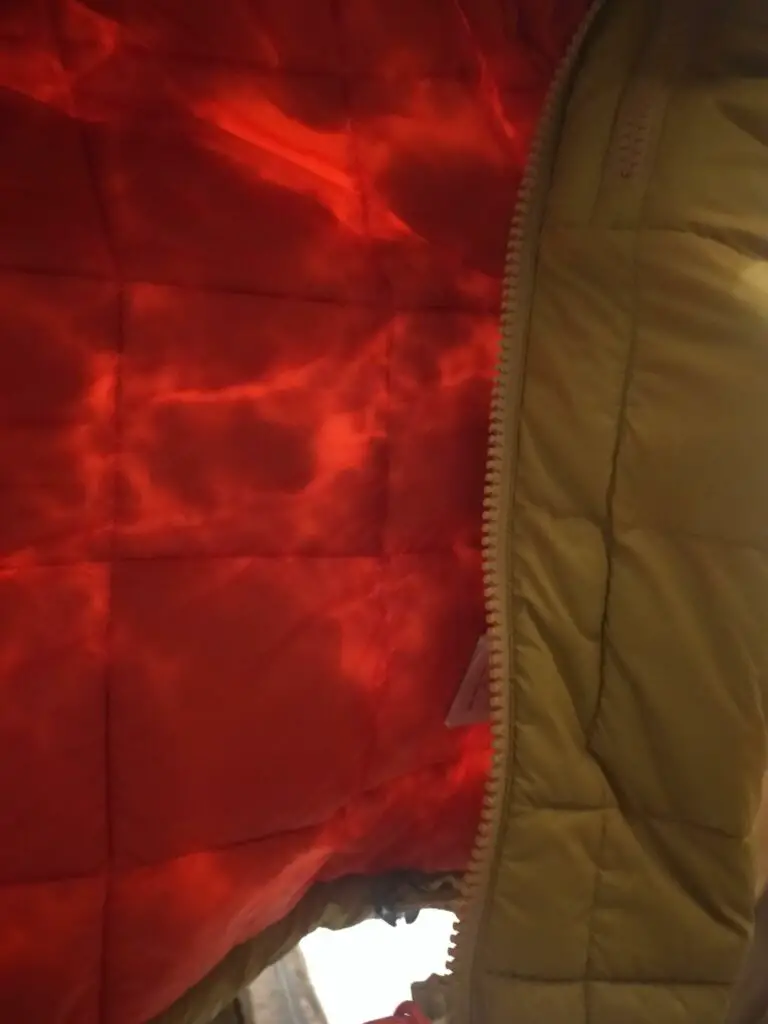 Conclusion on my experience with the Haglöfs ROC Mimic Hood Men down jacket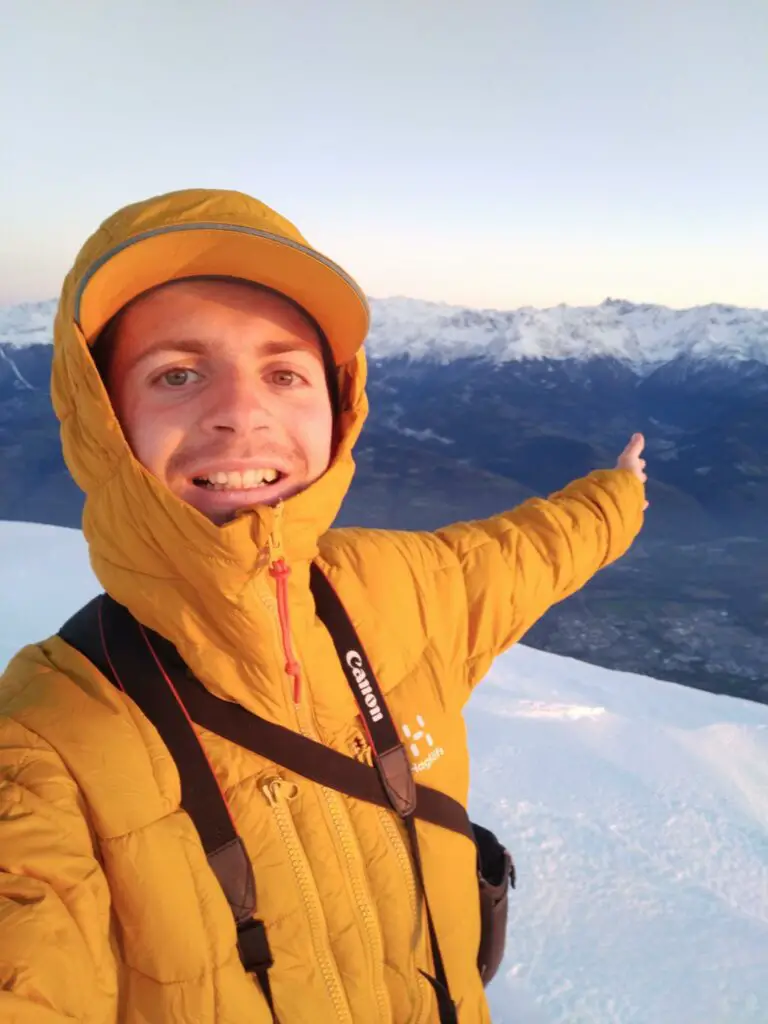 In short, this down jacket is practical and comfortable. But it does not fully meet my needs for my outdoor activities. In fact, the down jacket finally seems quite fragile and that's a shame. With a price of €280, I expected a little more from this down jacket. However, it remains a good 3-season down jacket for a variety of outdoor activities.